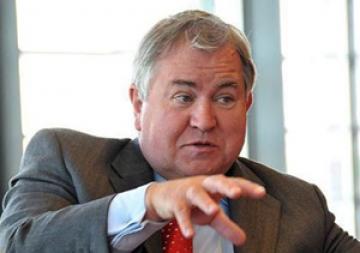 Skopje, December 2, 2013
Council of Europe is monitoring the general political and democratic situation in FYROM.  Robert Walter, MEP on FYROM is participating in this mission and on the first day of his visit met with speaker of parliament, Trajko Veljanovski and coordinators of parliamentary groups.
In these meetings, Walter has announced the decision for the opening of the European Council office in Skopje, as a result of the political deadlock, the complaints about the elections and the crisis that engulfed the country after the December 24, 2012 events in parliament.
For the coordinator of the parliamentary group of PDSH, Imer Aliu, the decision of the Council to return to Skopje shows that the country is moving backwards in the process of democratization as a result of the government, which according to him, is damaging Albanians.
"We discussed about issues that relate to Albanians. The discrimination on the allocation of the budget, the discrimination in the use of Albanian language as a second official language… We praise the decision of the Council of Europe for the opening of the office in FYROM, something which is important for the Albanian opposition, because it can address the problems of Albanians in Macedonia", said Imer Aliu, PDSH lawmaker.
On the other hand, today's meetings have also been focused on the engagement of the work group for the implementation of the recommendations which were issued by the enquiry committee for the December 24 events, presidential elections, Shipovic case and the developments as far as the name dispute is concerned. Tomorrow, Walter will hold intensive meetings with ministers, the Ombudsman and representatives of the media in order to hear about the freedom of the media in the country. On December 13, Walter will announce the results of his report. /ibna/