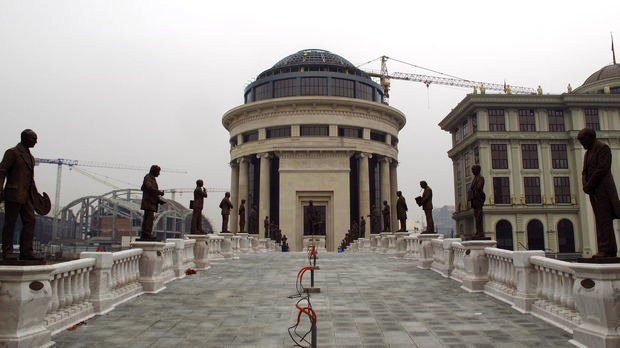 Skopje, April 22, 2013 by Naser Pajaziti
"Skopje 2014" project of memorials in the Skopje square has reached a financial cost of 207 million Euros since its launch in 2008.
This was announced on Monday during a joint press conference by the Minister of Culture, Elisabeta Kançeska-Milevska, the current head of the Center commune, Vladimir Todorovic and the director for General Affairs of the FYROM government.
The Minister of Culture, Kançeska-Milevska was asked as to why the initial cost of 80 million Euros for this project declared in 2008, was exceeded.
Kançeska-Milevska said that this amount belonged to an initial stage and that many constructions were not projected in the first project.
"This amount of 207.872.492 Euros is due to the reconstructions and expansions, but nonetheless, the amount is not 500 million or 1 billion Euros, like some media have reported. These speculations are unfounded", declared the Minister of Culture.
This project has sparked many debates in FYROM and accusations from the opposition for money laundering and corruption by the Government, through the memorials and other projects in the framework of "Skopje 2014".
The newly elected chairman of the Center commune in Skopje, Andrej Zhernovski, a representative of the opposition, has announced that he will review the entire project, the financial expenses and the possibility of dislocating or removing a part of the memorials from the central square of Skopje. /ibna/