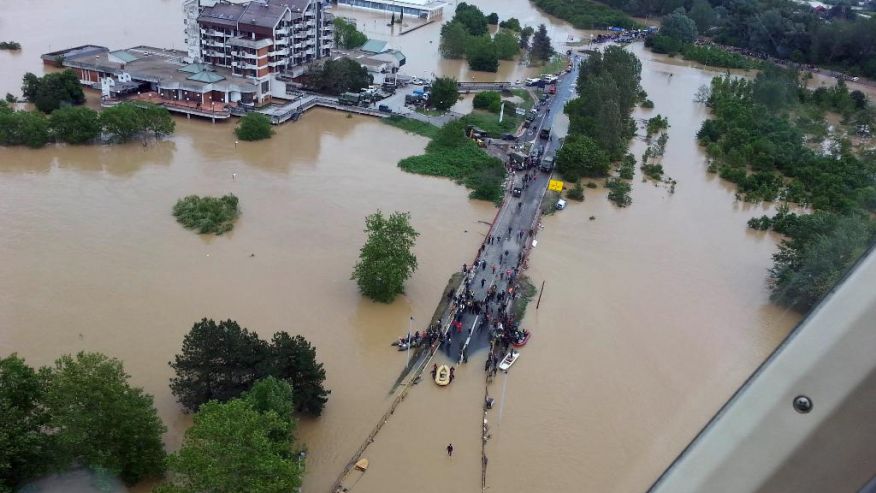 By Milos Mitrovic – Belgrade
The total cost of the damage caused by the recent floods in Serbia is estimated to one billion Euros, Prime Minister Aleksandar Vucic said. Nevertheless, Vucic stressed that situation in the devastated areas is "getting better every day". "The state has framed the plan and dynamic reconstruction will start within several days. All those who have lost their houses will get the new ones", Vucic promised in the interview for Radio-Television of Serbia (RTS).
According to Vucic "state" would provide the reconstruction of all damaged roads because municipalities affected with floods don't have resources in that regard.
"We have to be careful and cautious, primarily in Obrenovac; the situation is also difficult in Krupanj as well as in Svilajnac, Ub, Koceljeva, Valjevo, Bajina Basta. But I would say that it's getting better", Vucic underlined adding that reconstruction would be large-scale job.
"The state would also take care of electro-energy system reconstruction", prime minister said explaining that the costs in this sector were highest. With regard to damaged houses, Vucic promised the government would partly reimburse the costs.
Vucic said he "would like" somebody from non-governmental sector to manage the funds for the reconstruction. He announced he would offer the job to Marko Blagojevic, program director of Center for Free Elections and Democracy (CESID). "I want to avoid the rumors that somebody earned the money" (using the money for reconstruction), Vucic explained.
Premier specified that the total cost of the damage was estimated to one billion Euros. He said that 20 percents of the costs would be provided from abroad; the most significant relief is expected from European Union, Russian Federation and Arab countries.
Vucic rebuffed Organization for Security and Co-operation in Europe (OSCE) claims on censorship in Serbia during the floods. He emphasized the comments that government has demanded withdrawal of certain articles from websites "were absolutely wrong".
"If the problem is actually the fact that Serbia was the only country in the region that did not impose the sanctions to Russia (with regard to Ukraine), this should be said rather than denounce the government for the alleged censorship", Vucic said.
Earlier this year Serbian government proclaimed that it respects territorial integrity of Ukraine, but it would not impose any sanctions to Russian Federation.