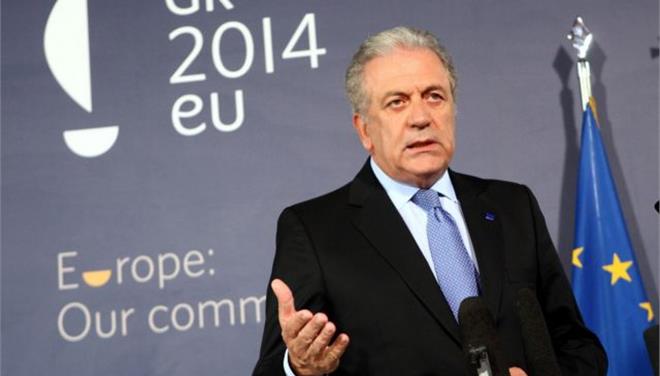 By Spiros Sideris – Athens
The portrait of the new Greek European Commissioner Dimitris Avramopoulos was published by the Austrian newspaper Die Presse in its weekend edition, with the characteristic title "Professional for the Policy on Internal Security".
"Discreet work, cosmopolitan attitude and a good political instinct – This is how one could sum up the career of the new EU Commissioner for Migration and Internal Security, Dimitris Avramopoulos", emphasized the authority of the publication, "Portrait of the day" of the austrian newspaper.
The 61-year old lawyer began his career as a career diplomat, serving for a time in the OSCE (Organization for Security and Cooperation in Europe) in Vienna, while his entrance to politics started in the early 1990s, as the representative of the Greek Ministry Foreign Affairs and as Director of the Diplomatic Office of the conservative prime minister Constantine Mitsotakis, continues the dedicated to the new Greek Commissioner publication.
The newspaper refers to the next stops of his career; his 1994 election as the mayor of Athens, a post in which he remained until 2002, at the time of his "only political mistake, when entrained by the high popularity in 2001 he founded his own party, the 'Movement of Free Citizens', which ended a year later", and not long after came his reconciliation with the New Democracy and the undertaking during 2004-2009 of the Ministry of Tourism initially and then the Ministry of Health.
Dimitris Avramopoulos, after the electoral defeat of the New Democracy in the 2009 elections claimed its leadership, but afterwards formed an alliance with the current Prime Minister Antonis Samaras and when the Conservatives came to power after the election victory in 2012. Samaras rewarded his partner with the position of Foreign minister and later Defense minister, concludes the article-portrait of Die Presse.