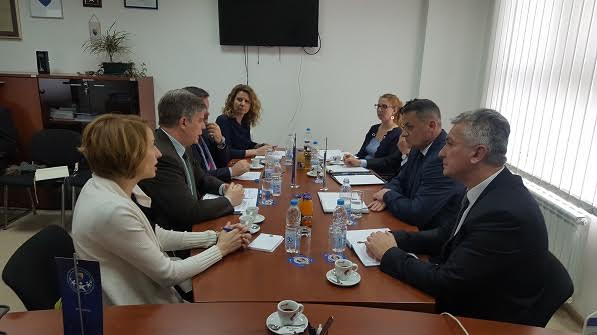 The Head of the EU Delegation to BiH and EU Special Representative, Ambassador Lars-Gunnar Wigemark said at Monday, during the visit to the BiH Agency for the Prevention of Corruption and Coordination of the Fight Against Corruption (APIK), that the situation regarding corruption in the country can not get worse than it is, and that, this is all about a common problem that countries in the region and of the EU are struggling against jointly.
He called on all levels of government to co-operate with APIK and that all segments of society in must be involved in the fight against corruption that is present everywhere including the judiciary system.
"It is also important to include the educational system in this activities because it is necessary for young people to learn not to be like older are now. Battle against corruption is one of the main priorities of the EU and European integrations in BiH. A new strategy for all six countries of the Western Balkans is being drafted, and I can say that the rule of law will be one of the most important measures, as well as the fight against corruption," said Wigermark.
He added that the EU's strategy on the Western Balkans will be presented on February 6th, being also the green light for countries that the "game" starts, and that the decision regarding the exact time that they will become part of the community, will be made during the procedure. BiH will also have to prove the progress, while Wigemark points out that EU has not yet received the answers to the Questionnaire.
During the meeting with the director of the APIK, Hasim Šabotić, Wigemark said that he was informed that a large number of citizens' complaints were received during the past year, but that they were anonymous. He also invited the prosecution, courts and police to improve co-operation and take all the applications seriously. Wigemark added that the media play a very important role in spreading a message about a certain problem when that exists.
APIK manager Šabotić said that there would not be any progress without international assistance, and that, at the same time, the Agency needs more help from the local authorities.
"We do co-operate with relevant institutions, that are ready to fight against corruption, but they need financial and material help and more staff. We have 33 employees, four of them are working in the prevention sector and six in the Co-ordination sector. Eight of them work in the Conflict of interest sector and are not guided as employees of the agency, plus we do not have insight into their work. Only 10 people are "the pillars of the agency". We have made an initiative to the Parliamentary commission to amend the Anti-Corruption Law, in order to get better conditions." said Šabotić…/IBNA