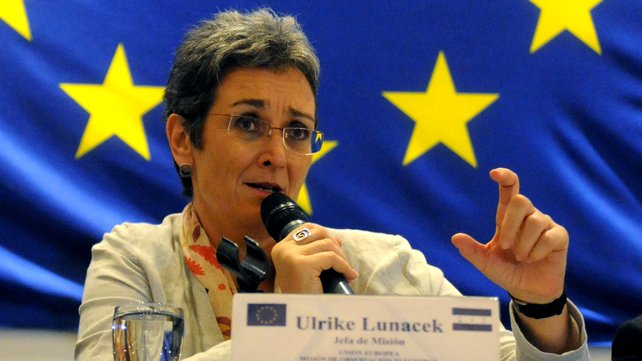 Pristina, October 31, 2014/Independent Balkan News Agency
By Elton Tota
Former rapporteur of the European Parliament for Kosovo, Ulrike Lunacek, demands explanations from the European Union in relation to the EULEX scandal.
Lunacek has declared for journalists that she's worried about the fact that one of the biggest EU missions, EULEX, is involved in a scandal.
According to her, the credibility of the entire EU foreign policy and security is in danger, because EULEX is the biggest and most important mission of the Common Security Defense Policy (CSDP).
"A report of the Court of Auditors has recently pointed out several problems with this mission. In the past, I have raised the issue of the lack of efficiency, especially in addressing high level corruption and organized crime in Kosovo and problems that have to do with the limited period of service of foreign judges, due to the rules of the EU member countries, something which among others, has damaged the success of the investigations being carried out", said Lunacek.
"This case must bring a new scrutiny on EULEX, in order to reconfigure and redefine the entire mandate of the mission, while special attention must be paid to the criteria for the selection of EULEX personnel and other future missions of the rule of law of CSDP in other countries".
Lunacek said that Federica Mogherini must come to the European Parliament to report in relation to the EULEX case, accompanied by the EULEX chief, Gabriele Meucci.
Lunacek has demanded from the Foreign Affairs Committee to deal with this issue as soon as possible.
"At the same time, this committee along with the Budget Control Committee and Subcommittee for Security and Defense, must urgently set up a monitoring group which will closely follow this issue, by having access to all confidential EULEX documents", said Lunacek in a reaction to the scandal that followed media publication for corruption within EULEX. /ibna/