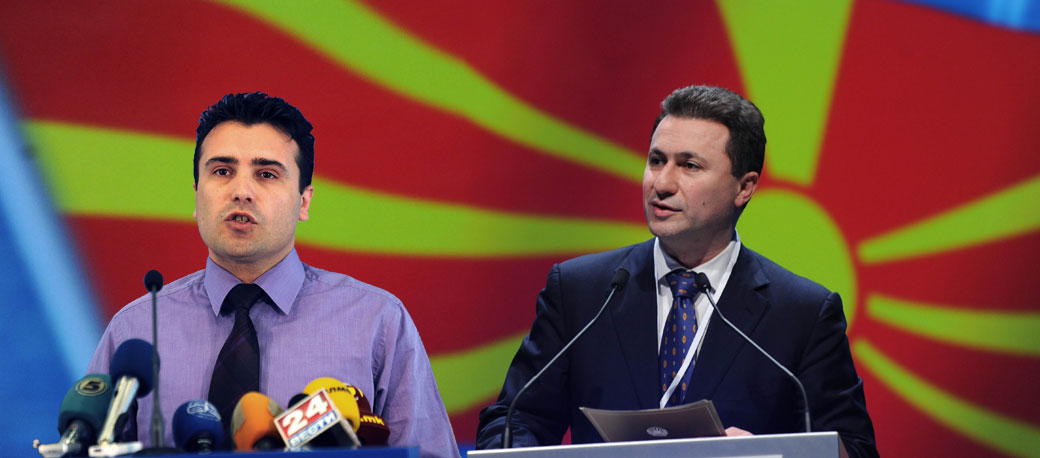 IBNA Special Report/At the peak of the electoral campaign for the early parliamentary elections and second round of April 27 presidential elections, Macedonian opposition has published documents with which it accuses prime minister and leader of VMRO-DPMNE, Nikola Gruevski for corruption
Skopje, April 17, 2014/Independent Balkan News Agency
By Naser Pajaziti
Leader of the biggest opposition party Macedonian Social Democratic League (LSDM), Zoran Zaev has publicly accused Gruevski by demanding him to explain how he personally received a cash amount of 1,5 million Euros from the Serb businessman, Jovica Stefanovic, aka Nini, in relation to the sale of the Bank of Macedonia.
Zaev presented evidence of the sale of 51% of the shares of "Makedonska Banka" to the renowned Serb businessman. According to him, the sale has been made through 6 companies which had shares in this bank.
"The sale was made for 900 thousand Euros, while Gruevski has received 1.5 million Euros in hand. Gruevski must accept this, otherwise, we will continue to publish other documents and evidence. The way that this sale has been carried out not only has breached many laws, but the budget of Macedonia has also been damaged with a fund of 225 thousand Euros due to the non payment of the tax on profit. Therefore, prime minister Gruevski must answer: "On what legal basis has he controlled the 6 shareholding companies at "Makendoska Banka"? Where have 900 thousand Euros withdrawn from the bank accounts of 6 companies ended up? Where have 1.5 million Euros paid in cash to Nikola Gruevski by "Gazda Nini" ended up?", declared Zoran Zaev.
VMRO-DPMNE party of prime minister Gruevski has reacted against these accusations. This party said that the declarations of the leader of the opposition are lies. "Zoran Zaev is lying and hallucinating. Gruevski hasn't taken money from anybody and has not been the owner of any company. He hasn't even sold the bank in question", declares VMRO-DPMNE.
This party declared that there will be charges pressed against the leader of the opposition on the accusations against prime minister Nikola Gruevski. "So far we have put up with accusations and different lies, but Zaev has crossed every limit", declared VMRO-DPMNE.
Prime minister and leader of this party, Gruevski avoided comments on these accusations during last evening's electoral campaign.
On the other hand, leader of opposition, Zaev said last evening during a meeting with citizens in Skopje that he will continue to publish other documents that incriminate prime minister Gruevski in crime and corruption.
Macedonian opposition media have published this denouncement made by the opposition, while pro government media paid very little attention. /ibna/