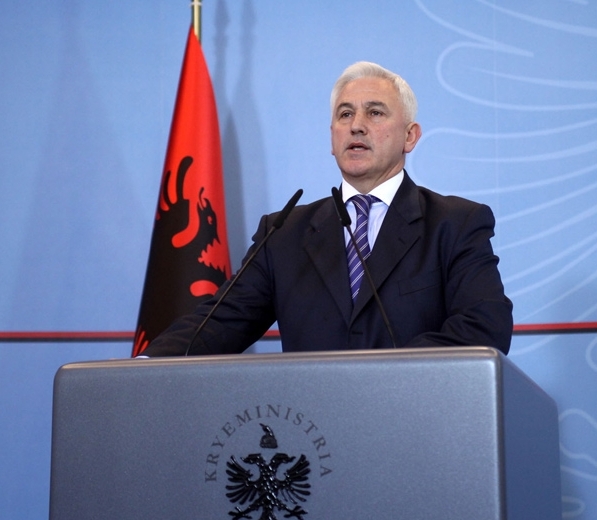 Albanian government says that it will tackle criminality and criminality amongst youth in particular, with a new correctional policy, starting from January 2014. Tougher sentences than the amendments in the Criminal Code announced by the previous government several months ago are expected. In the framework of these amendments, amnesty is also expected to reduce overpopulation in prisons
Tirana, December 27, 2013/Balkan Independent News Agency
Recently there's been a growing tendency of criminality, especially amongst young ages. Minister of Justice, Nasip Naco (photo) says that Albanian government has started to respond to this tendency of criminality with a new correctional policy. He says that starting from January 2014, a new policy in the Albanain justice system will be applied, in order to have a new climate in relation to the sentencing and its nature.
According to Mr. Naco, this new policy will aim to toughen measures on criminal offenses for which the Criminal Code provides serious setencing and other alternative sentencing.
"We will soon address to the General Prosecution based on the law on prosecution to draft a new correctional policy. This means that we will ask for tougher punishment on criminal offenses which bear severe sentencing and we will ask for other alternative setences provided by the Criminal Code".
Sources from the Ministry of Justice confirmed for balkaneu.com that in the framework of new policies, an amnesty is expected to come into effect within this year.
The amnesty is expected to benefit around 500 persons sentenced for different offenses.
Mr. Naco says that this incentive of the Albanian government aims a reform in relation to criminal sentences. Women under the age of 55 and men over the age of 60, sentenced up to 3 years in prison, are expected to benefit from the amnesty.
"The main target of the amnesty are minors under the age of 18 who have been sentenced", says the minister of justice.
"Thus, this is the scope of this amnesty of the Albanian government, to have an alternative sentencing, in order to toughen sentencing policies for serious offenses and to have other alternative sentences provided by the Criminal Code", says Mr. Naco. /ibna/