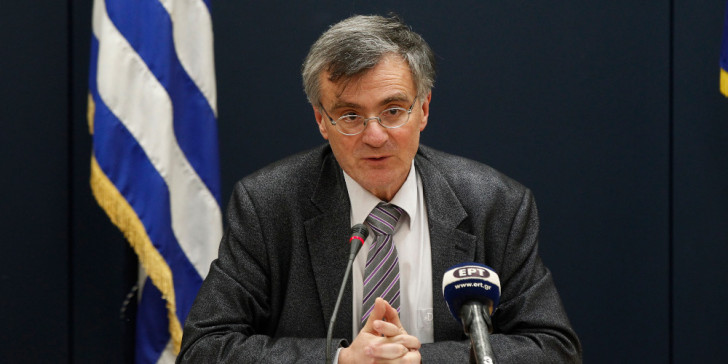 During a regular briefing on Thursday, Health Ministry representative Professor Sotiris Tsiodras announced 46 newly confirmed coronavirus cases in Greece, bringing the total number of people who have contracted the virus to 464.
The total number of people whose lives the coronavirus has claimed is now 6, as one more patient was confirmed dead on Thursday. The victim is a 70-year-old man who was being treated in a hospital in Kastoria, northern Greece, and had suffered from serious health problems.
Professor Tsiodras said there is no information as to how 72 patients contracted the virus. He went on to say that 78 patients are currently hospitalized with COVID-19, with 16 now in intensive care – three more than Wednesday.
Patients in intensive care have an average age of 69. A total of 19 patients have been discharged from hospital to date, five more than yesterday.
Hundreds of tests for COVID-19 are being carried out in Greece on a daily basis. Most patients are located in the city of Athens. Estimates point to about 2,000 to 3,000 people having contracted the virus in Greece.
Globally, professor Tsiodras said about 230,000 cases have been confirmed, with deaths reaching 9,300 worldwide. He added, on a positive note, that clinical trials of a coronavirus vaccine are now underway in the United States.
On his part, during the same briefing session, Deputy Civil Protection Minister Nikos Hardalias officially announced the suspension of the operation of hotels that operate on a 12-month basis, as part of measures to prevent the spread of the coronavirus.
Speaking later on Thursday, in an address to the nation, Prime Minister Kyriacos Mitsotakis urged citizens to stay indoors over the weekend, while warning against complacency and adding that "the worst is yet to come" in Greece with regard to the coronavirus spread.
He said the coming months will be hard for the Greek economy. In terms of fresh government initiatives, Mitsotakis said this year's state budget will be revised to make funds available to tackle the public health crisis. Overall, he said, approximately 10 billion euros will be made available, on top of funds Greece will receive from the EU.
Moreover, he said the government will extend an 800 euro benefit payment in April, not only to businesses that were ordered to close, but also to those whose turnover was heavily impacted. Freelance professionals will also be eligible to claim the benefit. The State will also make sure employees receive the Easter bonus wage payment, while action will be taken by the State to cover social security contributions in many cases.
Finally, medical and nursing staff, as well as Civil Protection workers will receive an additional 800 euros in the form of an extra Easter bonus, as a thank you for their efforts to tackle the pandemic./ibna