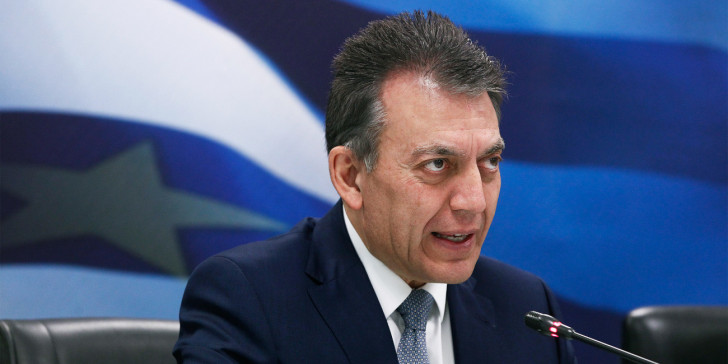 During a press conference on Monday, Greece's Ministers of Finance, Development and Labor presented further details of the government's comprehensive plan to support the economy and address the impact of the coronavirus pandemic on businesses, workers and households.
More specifically, Finance Minister Christos Staikouras announced a set emergency measures to be taken to aid businesses and households in April, as the coronavirus death toll rose to 43 in the country.
Mr. Staikouras said the State Budget for 2020 will be revised to include at least 5 billion euros in extra spending – up from a previously announced 4 billion euros – to support businesses and households in the March-April period.
Overall, the cost of emergency measures adopted by the government will amount to 6.8 billion euros (3.5% of GDP). The package is considered to be one of the largest applied in the European Union, where member-states spend an average of 2% of GDP to address the public health crisis.
Most notably, more businesses will be eligible for emergency support (800,000 businesses in total) and more employees will become eligible for emergency support in the form of inclusion in an 800 euro compensation scheme. A total of 1.7 million employees stand to benefit from the support program.
Employees affected from business shutdown orders due to the coronavirus, will benefit from a 4 month suspension of tax obligations, while a 25% reduction applies to those who pay on time. The social security contributions of affected employees are covered by the State for 45 days.
Moreover, VAT and tax obligations are suspended for affected businesses, while 25% discount of VAT & business tax obligations will apply in April for those that pay on time.
A total of 700,000 freelance professionals and self-employed will be eligible for emergency support. Small & Medium Size Enterprises (SMEs) will receive 1 billion euros in total, in the form of returned up-front tax payments, providing that they don't lay off employees.
The State will also cover Easter holiday bonus wage payments for affected businesses that have suspended labor contracts. The bonus payment can be deferred to the summer and in any case, it will be paid to beneficiaries in full.
Banks will provide options for deferral of debt/dues to affected businesses, providing that loans are being serviced, while initial 150 million euros will support agricultural businesses and farmers.
On his part, the Development Minister, Adonis Georgiadis, announced a 3 month deferral of the repayment of bank debt/dues for impacted businesses and employees and a suspension of bank cheques by 75 days for affected businesses and professionals, among other measures.
Moreover, an initial 1 billion euros will be made available in April, for the launch of a mechanism allowing banks to provide liquidity loans to businesses early May.
The Labor Minister, Yannis Vroutsis, announced the launch of an online platform as of 1 April, on which affected employees can apply for a 40% reduction of rent on primary residences and inclusion in the 800 euro compensation scheme.
Also, affected businesses can apply online – until 31 March – to suspend labor contracts of employees and reduce rent on commercial real estate by 40%.
As of 6 April, freelance professionals and their employees can apply for inclusion in the 800 euro compensation scheme. Six categories of scientists – lawyers, doctors, engineers, architects, accountants, educators/researchers – can apply for a 600 euro training voucher program. As of May, these categories of scientists, along with freelance professionals and the self-employed will become eligible for inclusion in the 800 euro compensation scheme.
Finally, freelance professionals and the self-employed will be eligible for a 25% reduction of social security contributions for the February – March period.
On Monday, Deputy Civil Protection Minister Nikos Hardalias confirmed that the Easter holiday will be "celebrated at home" this year, "without going to church and without visiting friends and family or travelling to the countryside". The minister added that the government saw no reason to impose stricter lockdown orders and restrictions on movement, as long as compliance with existing orders remains sufficient./ibna