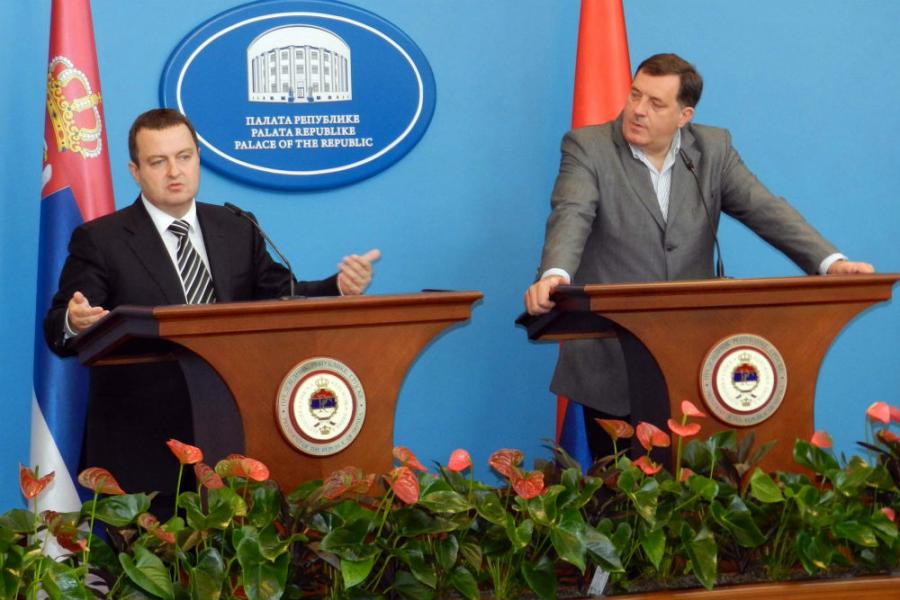 Belgrade – By Miloš Mitrović
After the new Serbian government and the president were elected in 2012, the good relations of Serbia with the neighboring countries had been both maintained and improved. The relations with Croatia had been the exception until recently, in the first place because of the controversial statements by president Tomislav Nikolić with regard to Croatian War of Independence. On the other hand, the relations with Montenegro – which were "frozen" during the term of president Boris Tadić – had been significantly improved; not surprisingly, both given the fact that the new government created by the parties with nationalistic past needed wide support for its consolidation and that Serbia and Montenegro have been the part of Yugoslavia from 1918 to 2006.
Nevertheless, Serbia has "special" relations only with the Republic of Srpska (RS), one of the two entities in Bosnia and Herzegovina. On Wednesday, ahead to joint session of the governments of Serbia and Republic of Srpska, which was held in the RS capital Banjaluka, Serbian prime minister Ivica Dačić confirmed that "Serbia wants special and the closest possible relations with RS".
The statement by Mr. Dačić does not represent anything new, given the fact that the building of the "special relations" started soon after the war in Bosnia was ended in 1995. However, the cordial meeting between Dačić and RS president Milorad Dodik sent the message that there were no problems in their personal relations, as it seemed to be the case in the past. Furthermore, the meeting signaled that the relations between Dačić and Dodik were even closer than those between Mr. Dodik and both Serbian president Nikolić and deputy PM Aleksandar Vučić. This should not be unexpected due to the fact that Dodik and former Serbian president Boris Tadić – the archenemy of Nikolić and Vučić at the time – maintained very warm relations.
At the news conference in Banjaluka Dačić reiterated that Serbia "is ready to support any agreement by the two Bosnian entities and three nations (Serbs, Bosniaks and Croats) based on the Dayton peace accords", alluding to the permanent political crisis in Bosnia; the core of the crisis is whether the country should be more centralized or the entities should keep the most of the competences. Dačić declared the willingness of his government to hold joint sessions with the central government in Sarajevo (Council of Ministers). Dodik – once the favorite of the Western representatives in Bosnia who became the advocate of the "strong" RS – said that he was not opposed to this proposal.
Dodik reiterated both that Bosnia would not recognize the independence of Kosovo, owing to RS opposition, and that the entity would follow the Belgrade policy regarding Kosovo and the accession of Serbia to European Union.
Serbian transport minister Milutin Mrkonjić said that the long-awaited air route between Belgrade and Banjaluka would be opened soon "upon the completion of the negotiations" with the Etihad, company from United Arab Emirates.