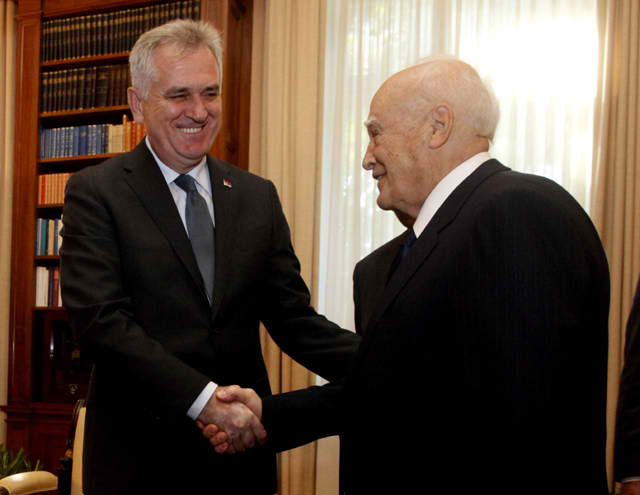 By Miloš Mitrović – Belgrade
Serbia did its best to fulfil the conditions determined by the European Union regarding the start of the accession negotiations, president Tomislav Nikolić said after the meeting with the Greek president Karolos Papoulias in Belgrade on Tuesday. "The ball is in European court now", Nikolić added.
"The decision we are expecting soon will also encompass the position of our Greek friends. This decision will be the milestone in our history. The decision will signal whether Serbia is desirable in the European family or not", Nikolić stressed alluding to the EU summit that is to be held in Brussels on June 28th.
It had been officially announced in Brussels that the EU leaders at the summit would signal the green light for the start of the accession negotiations with Serbia. However, Serbian officials repeatedly state that they expect that the EU leaders would grant the precise date for the kicking off negotiations.
Nikolic said that Serbia has been calm before the summit due to its responsibility and honesty towards EU and itself. He expressed his gratitude to Greece regarding its support to Serbia both at the strategic and the international level.
"We do firmly support the integration of Serbia into EU and the immediate granting the date for the start of the membership negotiations", Greek president Karolos Papoulias said during the joint press conference he held with Nikolic. He added that the bilateral relations between Greece and Serbia have been exceptional. However, the relations in the future could be even better, Papoulias stressed.
"An honest, stable and fruitful cooperation between our two countries represents the symbol of the stability and welfare both in the Balkans and in the Europe", the president of Greece rendered.
Serbia and Greece, in Papoulias`s opinion, are important factors of the stability and security in the South-eastern Europe.  He thanked Nikolic for the constant Serbian support regarding the Cyprus issue. The name dispute between Greece and the Former Yugoslav Republic of Macedonia (FYROM) had also been discussed during the meeting of the two heads of state.
In 2012 Nikolic expressed solidarity with Skopje regarding its dispute with Greece what provoked an official protest of the Athens.
Nikolić granted Papoulias the Order of the Republic of Serbia on a sash for contribution to fostering and strengthening cooperation and friendly relations between Serbia and Greece, Television B92 reported. Papoulias gave Nikolić the Grand Cross of the Order of the Savior which had been established in 1829 as the foremost order of merit in Greece.
Papoulias also met Serbian Prime Minister Ivica Dačić and Parliament Speaker Nebojša Stefanović. On Wednesday he is going to visit Serbian Patriarch Irinej and attend the Serbian-Greek bussines Forum.