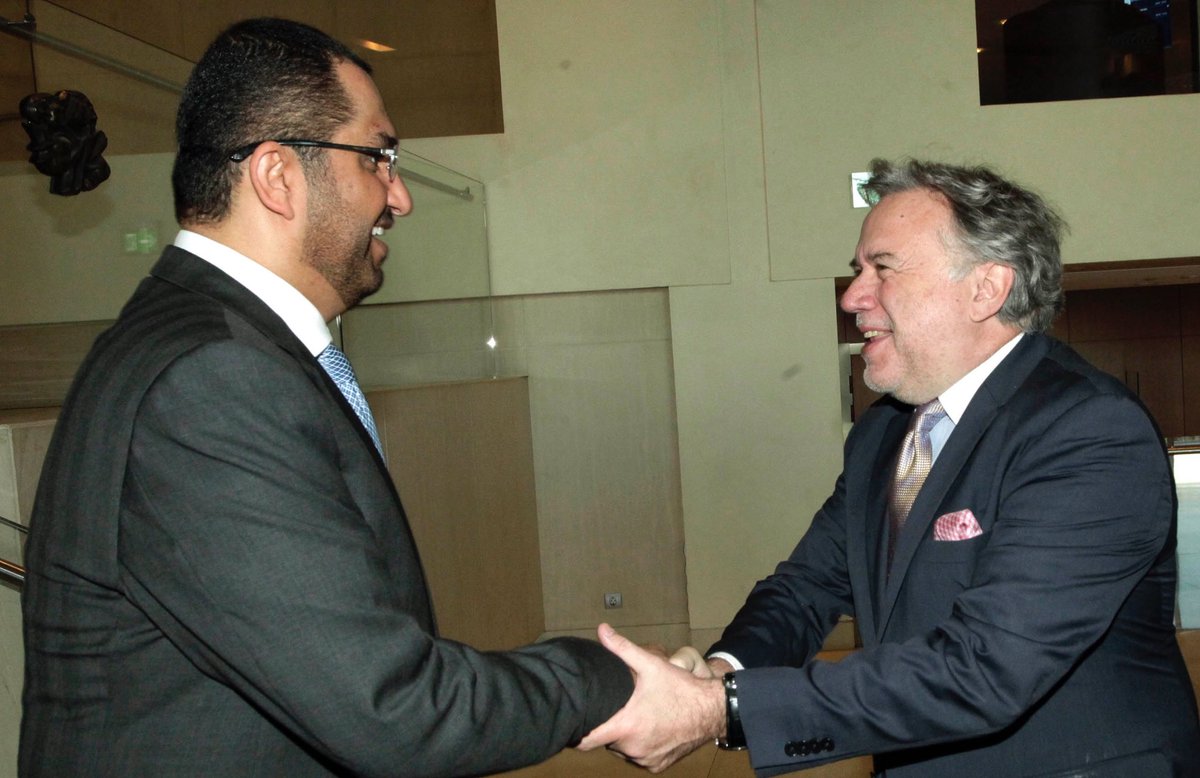 With the signing of seven agreements and memoranda of cooperation, the 3rd Joint Interministerial Committee between Greece and the United Arab Emirates, which took place in Athens on 3 and 4 May, came to a close today.
In an extremely good political climate, the Deputy Foreign Minister, Mr. George Katrougalos and the  Secretary of State for the United Arab Emirates, Sultan Bin Ahmad Al Jaber, co-chairmen of the Commission, confirmed and deepened their close bilateral political and economic relations.
More than 50 representatives of Ministries, Organizations and Sectoral Organizations participated in the Summit, while more than 70 representatives from the respective Ministries and agencies attended the Emirate meeting.
In the framework of the Interministerial Committee, Deputy Foreign Minister Katrougalos, stressed that there are significant prospects for the development of cooperation between Greece and the United Arab Emirates in areas of mutual interest such as trade, investment, energy, tourism and shipping. With the current agreements and business contacts in place, new paths for cooperation between the two countries are opening up.
Following the completion of the Joint Interministerial Committee, the formal ceremony for the signing of the agreed minutes of the Summit, the bilateral agreements, as well as the Memoranda of Understanding between the bodies was signed. In particular, agreements on maritime transport, energy and road transport have been signed. Also, Memoranda of Understanding were signed between the Hellenic Industries Association, the Athens Chamber of Commerce and Industry, the Center for Renewable Energy Sources and HELMEPA with the corresponding authorities and chambers of the United Nations.
Following the completion of the Joint Committee, a Business Conference was held with the participation of some 200 Greek and UAE businesses. The Minister of Environment and Energy, Mr. Giorgos Stathakis, and the Emirate Minister of State, Dr. Sultan Bin Ahmad Al Jaber opened the conference.
The Secretary General for International Economic Relations, Mr. George Tsipras, stressed for his part that the political relations between Greece and the UAE were always at a very good level. Long-term cooperation and mutual trust, Mr. Tsipras pointed out, have been forged and proved through supporting each other on sensitive issues. However, we must move on to further developing our bilateral economic relations at all levels. In this respect, we welcome the signing of the current Co-operation Agreements in the fields of energy and renewable resources, maritime transport, as well as between business communities.
Interventions from the Greek side were also made by the President of the Central Union of Chambers, Mr. Konstantinos Michalos and Investment Promotion Manager of Invest in Greece, Enterprise Greece, Mr. Elias Eliades. The proceedings of the Conference were completed with bilateral business meetings./ΙΒΝΑ