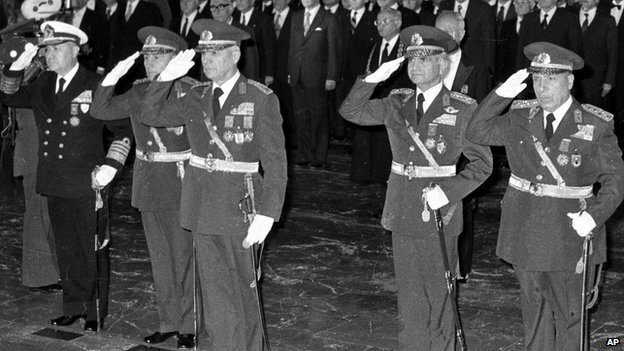 By Manolis Kostidis – Ankara
The sentencing to life imprisonment of two living former generals for the military coup in 1980 and the celebrations in the Turkish press show the absurdity of this country.
Kenan Evren (96) and Tahsin Sahinkaya (89) were tried 34 years after the military coup of September 12, 1980, when along with other generals who are no longer in life, had overthrown the elected government of Suleyman Demirel.
One could say that even with a big delay, Turkey for the first time in its history, condemned those responsible for a coup, something unprecedented in Turkey. That is indeed true.
But the Turkish press, mainly the pro-government part, celebrates the sentencing of the former generals responsible for the coup and characterizes it as a step towards the democratization of Turkey.
At the same time, however, by court decision and order of the turkish government, it is forbidden to broadcast any news concerning developments relating to the occupation of the turkish consulate in Mosul by Islamic extremists of ISIL, as well as the fate of the 49 employees of the consulate who are held hostages.
At the time of the consulate's capture the turkish newspapers were publishing articles against Recep Tayyip Erdogan and the Foreign Minister Ahmet Davutoglu for not having proceeded to a timely evacuation of the consulate, the support given by Ankara to Islamist extremists etc.. It was after all these that the government imposed this ban on the grounds of "national security and the safety of the hostages". Now this issue has been silenced and no Turkish citizen can learn what is going on with this issue and no one can write anything against the government. This is essentially a censorship.
Turkish citizens, like the turkish government, must understand that the democratization of a country can only be done with the conviction of the perpetrators of a coup after many years, but rather radical changes in the structures of the state are needed, which Turkey does not seem to have completed 34 years after the coup.