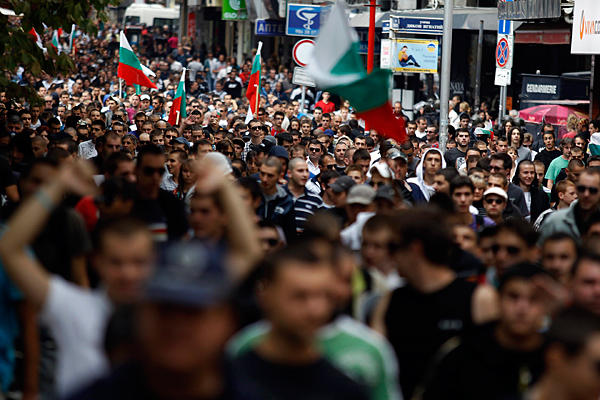 By Clive Leviev – Sawyer of The Sofia Globe
The decision by Bulgaria's Parliament – for weeks a focus of anti-government protests by many thousands of people demanding the government's resignation – to vote itself the traditional August summer holiday has sparked further political inside and outside its walls.
The upper hand in Parliament currently is held by the Bulgarian Socialist Party and the Movement for Rights and Freedoms, with the tacit support of Ataka, following the May 2013 elections in which former ruling party GERB got the largest single share of votes but was unable to form a governing coalition.
Protests against the government, now continuing for 42 days, resulted from an abortive decision by the parties in power to appoint controversial figure Delyan Peevski as head of the State Agency for National Security. Although Peevski's appointment was withdrawn, the actions and behaviour of the government have continuously fuelled protests demanding its resignation, a step it is refusing to take.
On July 26, the majority tabled a motion for Parliament to take the traditional summer holiday, albeit slightly shorter – by two days – than usual to enable committee work and a sitting on August 1 and 2.
From outside Parliament on Friday morning, public broadcaster Bulgarian National Television reported that Parliament voting itself a holiday further angered protests who had gathered for the traditional "coffee-drinking" morning session of protest in which people gather at the barriers outside the building to chant calls for the government to step down.
Former prime minister Boiko Borissov, leader of centre-right party GERB, said that it was wrong for Parliament to give itself a summer recess.
Instead of going on holiday, MPs should be debating a new electoral law.
Apart from the resignation of the government, a key demand among anti-government protesters is the putting in place of laws that would widen civil participation in elections to Parliament, to break the dominance of parties and the current system of lists that gives voters no discretion about the individuals sent to the National Assembly.
"It is clear that there should be early elections, and yet they want to rest," Borissov said.
The GERB leader, whose party largely has boycotted the current Parliament, returning only to oppose socialist-proposed Budget amendments and who has said that the party also would participate in sittings if discussions were about new electoral laws, said that a new electoral code should be prepared for when early elections were held.
Bulgaria's Parliament currently operates behind heavy security. In the single incident of violence in otherwise peaceful anti-government protests, police and protesters clashed when the authorities tried to take a busload of MPs home, through the massed crowds of protesters.
The incident led to about 20 people, including police, being injured, and is now being investigated by the Prosecutor-General and by the Ombudsman.