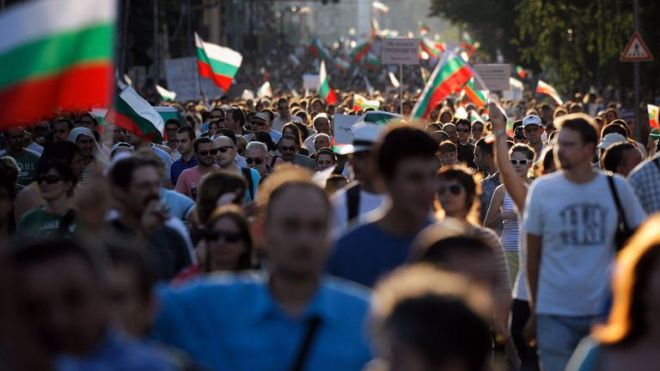 By Clive Leviev Sawyer of The Sofia Globe
One of the very few things that Bulgaria's two sets of protests so far this year – the "cost of living" demonstrations in February and the huge marches this summer to demand the resignation of the Bulgarian Socialist Party government – have in common is a demand for electoral reforms.
The February protests resulted in nothing other than the downfall of the centre-right GERB government of the time and since then, this purpose achieved, little has been heard of its "leaders" apart from those few who have embarked on ventures such as launching political parties of the very form that they claimed to despise.
The anti-government protests that began soon after the Bulgarian Socialist Party-Movement for Rights and Freedoms-Ataka deal brought to power an administration seen by its detractors as discredited from the outset have been characterised by more than the demand for this embattled administration to quit, but also for a rewrite of electoral laws to bring in a new element of citizen participation and loosen the dead hand of the customary line-up of political parties.
Any politician in Bulgaria who has ambitions to survive politically has to pay at least lip service to the notion of electoral reform, and the current government – whose principal purpose in office is to remain in office, turning a deaf ear to the chants for its resignation – is indulging in an "electoral reform" process.
This is being led by one of its most controversial MPs, a figure that the anti-government protesters love to hate, Maya Manolova, formerly a small-town lawyer who has risen to prominence in socialist party circles.
Those who want the government gone, of course, would prefer other forms of processes to produce a new electoral code – a round-table, a process of discussion under a caretaker cabinet, initiatives led by the head of state, President Rossen Plevneliev – the last-mentioned a figure who, outside the more rabid of the pro-government set and its little claque, is seen in surveys as having grown in stature and public popularity.
Soon before Bulgaria's current Parliament awarded itself a summer holiday of more than a month, daily newspaper Sega described the debates in the parliamentary committee headed by Manolova as a farce, with pointless conclusions and civil society organisations boycotting proceedings.
Those proposals that have emerged from the process in this committee seem to be taking a particular direction – drastic reductions in limits on electioneering budgets, free access to media including private media for all participants in the elections as well as central budget subsidies for campaign expenses. The clear implication of such proposals, were they to be implemented, would be that the most hard-hit would be well-resourced parties such as the socialists' rivals GERB, while lesser parties would benefit.
In turn, benefitting lesser parties could in fact benefit bigger parties as quiet deals were made ahead of elections about rewards after the vote, in the form of coalitions or other posts handed out under political patronage.
Manolova herself, who twice has embarked on futile attempts to speak to protesters in incidents which displayed an apparent incomprehension of the degree to which anti-government protesters reject the government, party and parliament she represents, told BSP mouthpiece daily Duma that the committee would work throughout August to come up with proposals to be voted on by the committee after the summer recess, in turn to be tabled for approval by the full Parliament.
A measure of the significance of the issue of electoral reform is that for many weeks former ruling party GERB said that it would break its boycott of the current Parliament only to debate matters of electoral reform (though in fact it broke its boycott to vote against controversial Budget amendments that will mean at least 500 million euro in new debt for Bulgaria).
Matters deepened on August 4 when Konstantin Penchev, Bulgaria's Ombudsman and a non-partisan figure, told public broadcaster Bulgarian National Radio that it was his belief that changes to electoral rules were being delayed intentionally, and this was why he had withdrawn from Manolova's committee.
Penchev said that he did not want to participate further in the committee because he felt that people and their expectations were being misled.
He said that in February, citizens had asked for some "simple and small" changes to the election laws, to give an equivalence to the rights of citizens to those of political party candidates.
At the time, according to Penchev, no one had spoken of a new election law, which could introduce some new, previously unheard-of, aspects to the electoral system
Such "epochal" work would take years, while people at the moment wanted guarantees that if there was an election tomorrow, the rules would be "more correct, more equitable, and they would be able to participate equally with party candidates".
He stated support for the anti-government protests, saying the fact that people had come out on the streets for more than 50 days was indicative of a serious problem, which had to be solved collectively, lest the situation eventually worsen, with "confrontation, complete dissociation of society, or God forbid, conflicts".
People were protesting, he said, because there was an ambiguity about who really made the decisions. "Constitutionally and legally it is clear who makes the decisions, but in practice we do not know who". People on the street wanted to know who was pulling the strings, Penchev said.
He expressed readiness to participate in debates initiated by President Plevneliev (it has emerged that the head of state plans no August summer holiday) but expressed concern that organising debates between civil society and political parties would be very complicated. The blame for this lay with a government that "continues to behave arrogantly," Penchev said.