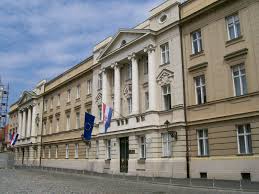 By Natasa Radic – Zagreb
Late last week, the Croatian Parliament adopted the Law on cooperation in judicial matters with the EU Member States, whose vote was boycotted by opposition MPs of HDZ (Croatian Democratic Union). Due to time constraints under which the European arrest warrant applies to offenses committed after the 7th August 2002. colloquially, this law is called "Lex Perkovic." It has provoked a number of controversies in the Croatian public and with the relation to the EU as well – Brussels has repeatedly said that this last minute change of the abiding law is not acceptable.
HDZ left the assembly hall ahead of the vote, and the party leader Tomislav Karamarko has accused the ruling party, socialdemocrats for the severe breach of the acquis communautaire.
-Croatia joins the European Union as a country that violates fundamental values of the European Union and may be subject to sanctions and the suspension of the European Union. Imagine hypothetically, how much it might cost the Croatian economy and Croatian citizens, and all of that for what reason? So that the secrets of the communist dictatorship times are not revealed – Karamarko said.
Just before the votes in the Parliament, the debate was stormy, and the ruling and the opposition again were arguing about Josip Perkovic's case. The opposition claims that the controversial restriction of application of the European arrest warrant has the only purpose to protect Perkovic, wanted by Germany for politically motiveted murder committed in 1983.in Germany-
Prime Minister Zoran Milanovic has announced constitutional amendments according to which there would be no statute of limitations for politically motivated killings. An amendment to the controversial bill that would end the stated deadline, was proposed by the independent representative and former prime minister Jadranka Kosor, but it was not accepted.
Kosor said that her amendment does not apply to one particular case. Out of 27 EU members, before the Croatian entry, 22 of the have no time limit, reminded Kosor.
-27 EU member states have ratified the accession document with Croatia that we negotiated and voted for in this House in 2010. And now, just before our EU entry, we have changed the provisions. This is not acceptable – said Kosor.