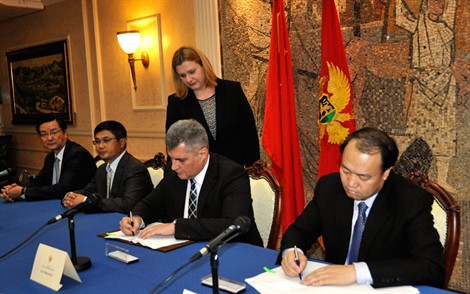 By Adnan Prekic – Podgorica
After 15 months of negotiations, the Government of Montenegro signed the contract to build the highway, with the Chinese company China Road and Bridge Corporation. The project will be financed by China EXIM Bank and the works will start in less than two months.
Montenegro is the only country in the region that does not have a single kilometer of highway. In October 2009, the Prime Ministers of Montenegro, Croatia and Serbia had cut the red ribbon and symbolically marked the start of the construction work on the highway. The job was given to a Croatian company 'KONSTRUKTOR' but the deal fell through because the Croatian company failed to provide with a bank guarantee to start with the work.
Due to the economic crisis, the construction of the highway remained a few years on hold, until last year, when the Chinese appeared. This was followed by months of negotiations that ended with an acceptable agreement by the two sides. The agreement was signed by the Montenegrin Minister of Transport and Maritime Affairs Ivan Brajović and representatives of the Chinese company 'China Road and Bridge Corporation' (CRBC) in Podgorica. The signed agreement has the force of an international agreement and it will be confirmed by the Parliament.
Minister Brajović said he believes that all of these procedures will be completed quickly and reiterated that the works should start in the spring. He said that negotiations with the Chinese EXIM Bank would begin immediately regarding the financial viability of the project, stating, according to his information, that the talks are going to be finished "soon". Of the €809 million needed to build the highway, 85% is going to be provided by EXIM Bank with the Montenegrin government providing the remaining 15%. Exim Bank had earlier offered the government a grace period of five years on a loan with an annual interest rate of 2% and a repayment period of 20 years.
Assistant general manager CRBC, the Hiao Peng Jun said that his company is the largest international contractor in China. The company has over 100 branches and is the leading company in the construction of transport infrastructure. "We are working on many projects around the world, who are working at the highest level". CRBC is fully owned by a Chinese company in telecommunications and infrastructure.
The highway from Bar to Boljari is 169.2 kilometers lengthy. This will be one of the most expensive highways per km in Europe, because tunnels, bridges and viaducts make up over 40% of the total length. This highway construction is the greatest engineering construction project in Montenegro and one of the biggest projects being implemented in the European market. The route will require the construction of 42 tunnels, 92 bridges and viaducts. The average daily, or annual traffic on the existing road from Bar to the border with Serbia, in certain sections ranges from 5,100 to 8,300 vehicles with distinct seasonal annual intensity that reaches up to 20,000 vehicles.