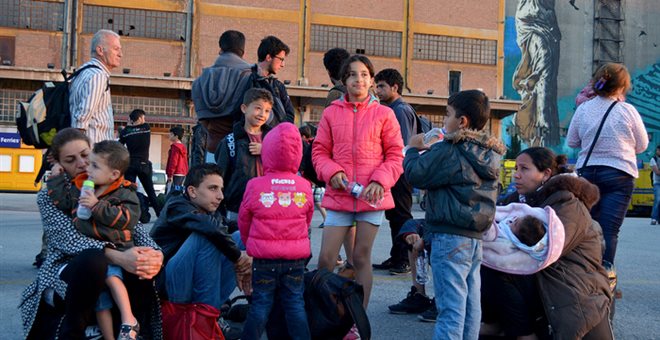 Athens, August 7, 2015/ Independent Balkan News Agency
By Spiros Sideris
Intense mobility in Greek the government to address the migration problem with continuous meetings. On Friday, the Prime Minister Alexis Tsipras, will chair a meeting on the handling of issues related to refugee flows.
On Thursday took place a broad meeting under state minister Alekos Flabouraris. On Friday's meeting under the chairmanship of the Prime Minister to be held at 12:15 pm at the Office of the Deputy Minister for Issues of Migration Policy, Tasia Christodoulopoulou, will also take part the Minister of Interior and Administrative Reconstruction Nikos Voutsis, Foreign Minister Nikos Kotzias, Deputy Minister for Citizen Protection Yiannis Panousis, Deputy Minister of Defence Demetris Vitsa, Minister of State responsible for Government Coordination Alekos Flabouraris and Government Spokeswoman Olga Gerovasilis.
On Thursday's broad meeting of government and other officials under Alekos Flabouraris on long-term solutions for the migration/refugee problem, it was decided:
It was updated the action plan to tackle the problems of the border islands.
It was checked the progress of preparations for the temporary relocation of refugees from Areos Park in Eleonas.
It was examined the progress of preparation of permanent refugee reception structures nationwide.
The government is dealing in all seriousness with the ever-growing problems caused by the increased flows of refugees and migrants arriving at the border islands of Greece, is stated in the announcement of the Office of Minister of State and is noted that despite the indifference and inadequacy of previous governments, the lack of planning regarding migration-refugee issue, and the attempt of other parties to take advantage of the situation for petty political reasons, the government moves forward with its planning, to provide solutions for the long-term.