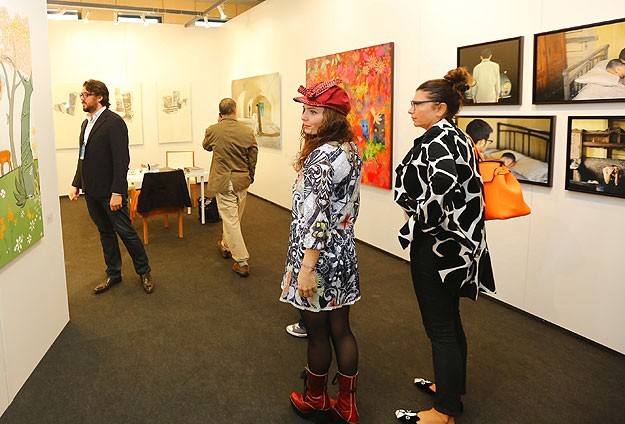 Review by Christos T. Panagopoulos –
International gallerists from twenty two countries chose to showcase their galleries and artists at Contemporary Istanbul (CI) due to Istanbul's dynamism, rich culture and international status.
According to the Anadolu News Agency, gallerist, Mary Nguyen, from Emmanuel Fremin Gallery in New York said that one of their main goals behind choosing Istanbul was to find emerging young artists for their specialized contemporary photography field alongside their already existing artists from various ethnicities.
"It's inspiring to see young Turkish artists. I find that young Turkish artists don't really struggle to become successful here", Nguyen said.
Nguyen reminded it was her second time in Istanbul for a show, adding they had many Turlish collectors in New York.
Stressing that Turkish clients were among the reasons they had come to Istanbul initially, Nguyen said their first museum show had attracted several people from both Turkey and abroad.
CI will be open to visitors until November 10 at the Istanbul Convention and Exhibition Centre (ICEC) in Istanbul.
"Istanbul has much more energy than Italy"
Attending CI for the second time, Italian gallerist, Paola Verrengia, stated she chose Istanbul since it had much more energy than Italy.
Noting that Istanbul played a central role for contemporary art in all senses given its location in the middle of the world, Verrengia said she found stong interest among not only the people of Anatolia, but also from around the world.
"I decided to come to Istanbul and not Miami this year. So, it's a special choice to be here", Verrengia said. "The past is important for the present, so this is what I think and also my artists do. They look to the past and they are contemporary."
Verrengia noted she had found heightened interest and better assistance than during the former CI.
Showing Sophia Vari's recent exhibition at Istanbul's Pera Museum, German Gallerist Frank Pages also expressed that the several cultural values across Turkey were also important, alongside the international city of Istanbul.
Contemporary Istanbul, Turkey's leading international art fair which brings both local and international focus to the dynamic art scene in Turkey's vibrant metropolis every November, will feature 95 galleries from 22 countries.
Outstanding works by 748 artists, including significant participants as Marlborough Gallery from New York and Galerie Lelong from Paris will be shown at the fair.
Andipa Gallery from London; Opera Gallery of Geneva; Galeria Filomena Soares from Lisbon; Senda Gallery from Barcelona; Galeria Javier Lopez from Madrid; Michael Schultz and Galerie Kornfeld of Germany, Klaus Steinmetz of Costa Rica, Dirimart, Galerist, Galeri Mana, Galeri Nev, Pi Artworks, Rampa and x-ist are amongst the participants of the art fair.
Besides, emerging galleries will be hosted in a special area at the Istanbul International Convention and Exhibition Center B Floor.
Hermann Nitsch, one of the founders of Vienna Actionism, will also exhibit his 66th Painting Performance, 'Malakt' at Contemporary Istanbul. Nitsch held 138 performances, the first of which was held in Vienna in 1962 and the last in Leipzig in June of 2013. The 66th Performance will be running throughout a 500 square meter area.
Running alongside Contemporary Istanbul will be 'Art Istanbul' – a week-long celebration of contemporary art across the city with participating institutions, galleries and cultural centers. Running from November 4 to 10, museums, foundations, initiatives and galleries will play host to a range of activities including talks, guided tours, artistic performances and workshops. Participants will include Istanbul Galleries, SALT, Istanbul Modern, Istanbul Foundation for Arts and Culture, Akbank Art, Borusan Contemporary, Proje 4L-Elgiz Museum of Contemporary Art.
Source: Anadolu News Agency