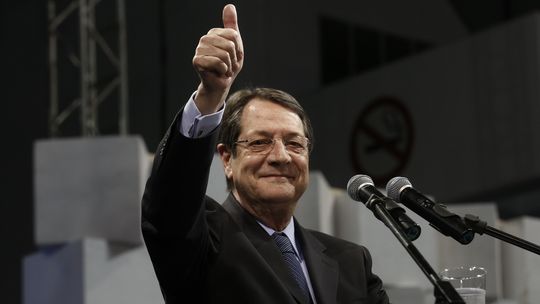 By Kyriacos Kyriacou – Nicosia
The President of Cyprus Nicos Anastasiades is in constant consultation with EU officials and European leaders since Tuesday, in an effort to secure the best possible results in the upcoming Eurogroup meeting, next Friday, that will review progress concerning the country`s 10 bln euros financial assistance programme.
The Eurogroup is not expected to give the go ahead for the disbursement of the next tranche, in the aftermath of the ratification of several bills on foreclosures, passed by the Cyprus House of Representatives last Saturday, in a way not meeting the preconditions set by the country`s international lenders.
Currently, 350 mln euros from the ESM – as well as another 86 mln from the IMF – are at stake. The country`s Finance Minister Harris Georgiades announced on Tuesday that the issue regarding the disbursement of Cyprus` next tranche will be not discussed in Friday`s Eurogroup meeting.
In total, six legislative proposals approved by the Parliament, have not been signed by the President. On Wednesday, the President decided to refer four out of six legislative proposals to the Supreme Court, following the advice of the Attorney General.
Sources say that consultations with the EU are tough, while the government aims to mitigate the impact. This effort however does not aspire to unlock the next tranche, the same sources noted.
Moreover, according to information, President Anastasiades is in touch with the leaders of Cyprus` political parties, in an effort to reach an understanding and avoid political confrontation.
Commission awaits plans on bill
The Commission awaits Cyprus` plans on the way forward with regard to the issue of foreclosures, Simon O` Connor the Commission's spokesman has said.
Cyprus` international lenders have set the approval of the bill of as a condition for the disbursement of the Cyprus` €10 billion bailout.
"While a detailed assessment is still ongoing, it appears clear that parts of the legislation voted through last Saturday, together with the foreclosures bill, are not compatible with the requirements of the MoU in this important policy area," O` Connor said.
"We remain in close contact with the Cypriot authorities on this matter and are looking forward to hearing from them how they plan to proceed," he concluded.