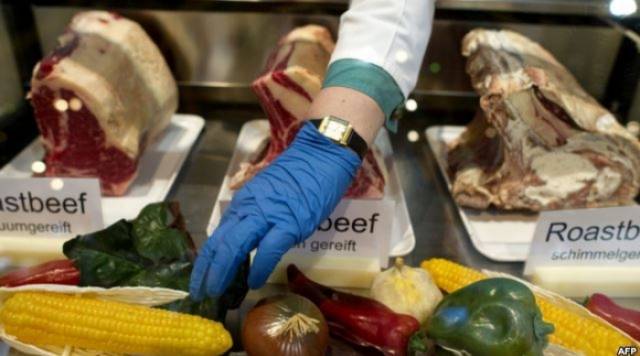 IBNA Special Report
November 11, 2014/Independent Balkan News Agency
By Elton Tota
In the markets of Kosovo, consumer often encounter products of a suspicious quality and unsafe to be consumed. These products may be both made in Kosovo or imported ones.
NGOs have often expressed their concern about the lack of safety in these products, whereas competent authorities say that all these products are safe.
A few days ago, Valon Xhambazi, a 28 year man died in a hospital in Pristina. The cause of death was chicken meat poisoning, while his relatives were also poisoned.
Selatin Kacaniku, head of the "Consumer" NGO says that consumer in Kosovo is as safe in the food that he consumes as the application of laws.
"If the application of laws is no higher than 40%, then I can say that food safety is no higher than 40%", says he.
Kacaniku has expressed his concern that companies that import products from different countries of the region and the European Union, are not interested for quality and safety, but profits.
"No product is forced into Kosovo. They are all imported by businesses and entrepreneurs who knowingly import low quality products, suspicious and unsafe, in order to make high profits", says Kacaniku.
Acting deputy PM, Behgjet Pacolli has also reacted after the death of the 28 year old from Pristina, for whom it was said that he was poisoned with chicken meat. The deputy PM says that the boy who was dead, was his collaborator and that according to him, he was killed by economic mafia.
"Mafia leads everything, with the support of politicians, who consider the race to gain posts as vital. The mob holds food control away. Citizens today don't know what food to choose, because remains are mixed with food products. State mechanisms that guarantee safety and quality of food, do not operate. Someone is to be blamed for this. I believe this political class, the current leaders are responsible for the bad situation", declared Pacolli.
On the other hand, some citizens say that they do not believe in the quality of food products.
Artan Berisha, an accountant, says that he is never supplied with food imported by the countries of the region.
"I believe that food that comes from the European Union are safe, while the products that we consume and which circulate in the market of Kosovo from the region, are not that safe", says Berisha.
In spite of the chicken meat poisoning and debate about the low quality of food products in Kosovo, Agency of Food and Veterinary (AFV), says that it doesn't allow any products to enter Kosovo without undergoing inspections and this inspection is carried out in two levels.
The first level relates to the border inspection, made by AFV inspectors and the second level is that of lab tests. If a product is not safety, then it's destroyed and the business operator is sent an order to appear before court.
This was declared by the spokesman of the Agency for Food and Veterinary, Lamir Thaci.
Thaci says that no dangerous product for consumer is allowed to enter the country. He says that every product that is imported and which doesn't have paperwork that guarantees its safety, is not allowed to enter Kosovo.
"For imported products, each product that doesn't have the necessary paperwork that guarantees its safety, is not allowed to enter Kosovo, because the safety of these products is guaranteed by their producing countries and we have constant contacts with the authorities of these countries. Besides this, there are always lab tests and this guarantees the safety of products that enter Kosovo. Our authority has harmonized its procedures with the procedures followed in developed countries, mainly EU countries", says Thaci. /ibna/