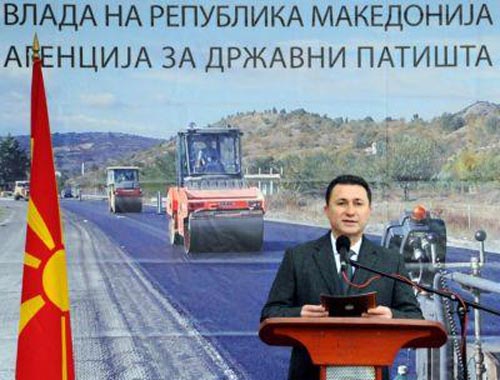 Skopje, February 22, 2014/Independent Balkan News Agency
By Naser Pajaziti
Construction works start for the highway linking Kercova to Struga and to Ohrid. This is considered to be as the most important road segment of the country. This afternoon (22.02), a ceremony took place near Kercova and present in the launch of construction works was prime minister Nikola Gruevski, deputy prime minister Musa Xhaferri and other government officials.
This highway will be 56.7 km long. The project will be implemented by the Chinese "Sajnohidro Corporation Lmt" and will cost 375 million Euros.
"This investment amounts to 375 million Euros and is the biggest investment in the the past 50 years in Macedonia. The first to benefit from this project will be the residents of the areas from Kercova to Ohrid, but this is also a gigantic project in Western Macedonia which is accelerating free movement and its links to Skopje and other parts of the country. Out of this project, we will have serious benefits from tourism, the attraction of foreign investments and other benefits for the free movement of the citizens", said prime minister Gruevski.
Deputy prime minister Musa Xhaferi said that the highway is a special event and a segment which links this area, but also a major project in the framework of the 8th Corridor.
"This project will offer a very good opportunity to link Kercova to Struga and Ohrid with the the port of Durres and with this, it becomes one of the most important segments of international transport. There will be an improvement in the infrastructural links of the region, which will be prosperity for each of the countries linking to the 8th Corridor, which is one of the most important roads in the region, a road which links the port of Bari in Italy through Albania and Macedonia to the ports of Burgas and Varna in Bulgaria", said Xhaferi.
The highway will have two lanes on each side, 3.75 m wide and an emergency lane 2.5 meters wide. The highway will have 22 bridges and a tunnel going in two opposite directions in the mountain range of Preseka, 1.990 meters long. The project will last 4 years, while the funds have been secured through a loan issued by the Chinese Eksim Bank. /ibna/