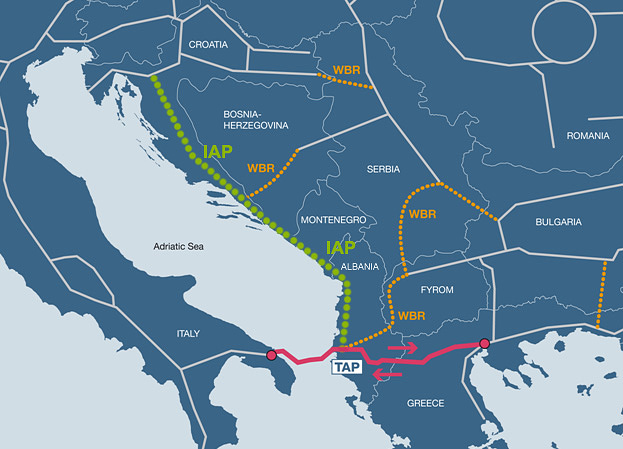 Tirana, November 16, 2013
Trans Adriatic Pipeline (TAP) has planned to start next year the construction of pathways for the gas pipes in the areas where it will pass in Albania.
Heads of TAP aim to finalize the process during 2014 and 2015 in order for road infrastructure to be ready for the construction of pipes in which the Azeri gas will go through.
Heads of the project have planned to start next year the construction of pathways in order for the construction of pipes to be ready in 2015.
Construction of pathways follows a period of two months which has seen the purchase of land in Greece and Albania. Work teams are working intensively to identify the legal owners of the land where pipes go through.
Trans Adriatic Pipeline (TAP) is a project of natural gas pipelines. The pipeline will start in Greece and will pass through Albania, Adriatic Sea and will end in the south of Italy, by allowing gas to run from the Caspian Sea region toward European markets.
Albania currently has a poor production of gas with around 5 million cubic meters a year and almost the entire amount is used to supply technological processes of the refinery and industry of oil.
Other consumers of gas are households, but the majority of gas which is sold for consumer use is imported. Consumers mostly use gas for cooking and a few use it for heating.
State institutions do not use gas for heating, as air conditioning holds the heaviest burden.
Albania lacks a network of gas supply in all state institutions and in all detached homes or apartment blocks.
During the communist regime, there weren't any plans to build a network of gas pipelines, but even during these 23 years following the fall of communism, authorities didn't take measures in order for the new apartment blocks, which have been numerous, to be equipped with a gas network included in the services sold to residents.
The government has declared that in Albania, the implementation of TAP will cost around 1 billion USD and is expected to create around 20 thousand jobs. This investment is expected to encourage economy in general in the areas where it will pass. Benefits relate to employment, creation of infrastructure and development of local potentials. /ibna/