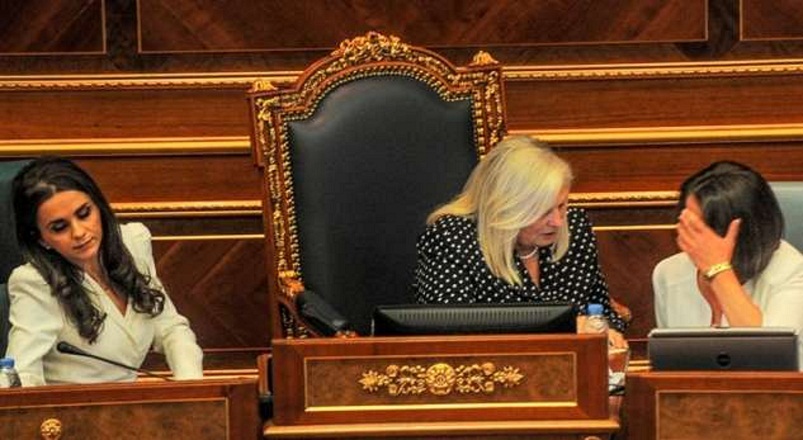 IBNA Special Report
Pristina, October 2, 2014/Independent Balkan News Agency
By Elton Tota
Thursday's parliamentary session in Kosovo has been postponed at the request of the most senior MP, Flora Brovina, who is also the interim chair of the session.
A letter sent by Mrs. Brovina to MPs says that "based on the constitutional role of the President of the Republic of Kosovo to guarantee a democratic functioning of institutions and the start of a process which will lead to a political agreement with political leaders and overcome the political and institutional crisis, I believe that it's necessary to postpone the constitutive session, in order for this session to be successfully finalized".
Mrs. Brovina has referred to the consults conducted by the president of Kosovo, Atifete Jahjaga with political parties in an effort to find a way out from the situation where the country finds itself.
The president's office has issueda press release where it says that her meeting are a special process which aims at facilitating talks between political parties, in order to find a solution for the creation of institutions.
"The president's office stresses the fact that parliament of Kosovo is an entirely autonomous institution. No domestic procedure, including its summoning, has any connection with the efforts of the president to facilitate dialogue", reads the press release of the president's office.
The postponement of the session increases "tension" between the two blocs
Experts of political developments in Kosovo say that the postponement of the session has been made without any legal basis.
Fisnik Korenica from the Group for Legal and Political Studies says that the decision for the postponement of the continuation of the constitutive session only mounts tension that already exists between the two political blocs.
"The chair of the session cannot revoke such decision because there's no objective circumstance that makes the holding of the session impossible. The chair of the session doesn't have the necessary power to call or continue the session, if she hasn't had the consent of MPs for this", said Korenica.
Publicist and political analyst, Adriatik Kelmendi said that in spite of everything else, Thursday's session should have been held.
"Nevertheless, the session should have been held. In the first session, the 'largest parliamentary group wanted to prove that it had the necessary numbers. In the second one, it "thought" it had the numbers, but they didn't come out as it expected it. In the third session, it knew it didn't have the numbers and didn't even bother to show up", declared Kelmendi.
According to him, "with this dangerous president, we must wait and see if PDK will disperse parliament as an institution if it doesn't secure the necessary numbers".  /ibna/