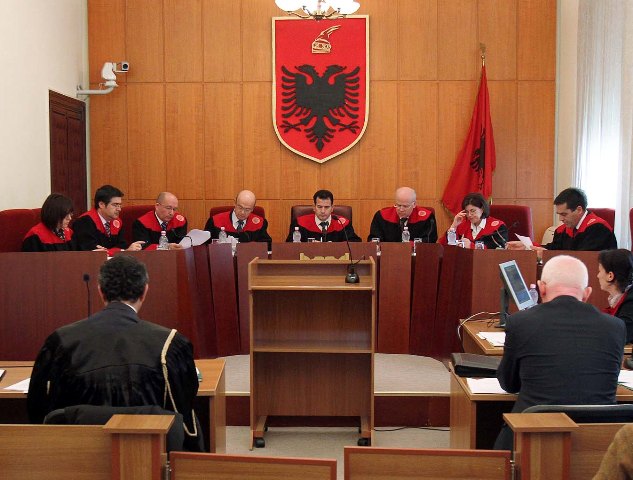 Tirana, April 17, 2015/Independent Balkan News Agency
The Constitutional Court in Albania has quashed the creation of the National Bureau of Investigation by considering it illegal. This decision comes after the request filed by one fifth of the Democratic Party MPs, who demanded the creation of NBI to be declared unlawful.
The Constitutional Court declared today that the decision to consider the Bureau as unconstitutional, was due to the fact that it was in violation with the law on State Police.
Albanian opposition is entirely against the establishment of NBI. The Democratic Party has demanded to the Constitutional Court to declare the creation of the National Bureau of Investigation as anti-constitutional, because according to it, it threatens and takes over the powers of the Prosecution. Vice chairman of the DP, Arben Ristani says that NBI is unacceptable.
"The main constitutional principles and the division and balancing of powers are attacked. Imagine people appointed by the Minister of Interior and PM investigating government corruption", says former Interior Minister, Arben Ristani.
National Bureau of Investigation for the first time in Albania
National Bureau of Investigation (NBI) has been integrated within State Police. It will have 50 employees, who are judicial officers, police agents and experts from other domains. This bureau will trace and investigate different criminal offenses in the domain of corruption and organized criminal activity and it will depend on the Police Commissioner and General Attorney.
NBI is also considered to be the Albanian FBI. This bureau will exert its powers throughout the entire territory of the country and it will answer to the Police Commissioner about its tracing activity. Meanwhile, as far as the investigation activity is concerned, it will answer to the prosecutor.
The head of NBI will be appointed by the Minister of Interior, upon the proposal of the Police Commissioner every four years. Officially it is said that NBI will handle the analysis of criminal information which will arrive from specialized services of the Albanian state, with the fight against human traffic, contraband on the border of Albania with the region and international contraband.
NBI will also handle the fight against drug traffic and radioactive substances, the demolition of explosive weapons, anti-terror, fight against money laundering and corruption, cyber crime and the protection and accommodation of witnesses.
Duplication of the prosecution?
Some lawyers are against the establishment of the National Bureau of Investigation, arguing that with this structure, the government is duplicating the General Prosecution. According to them, the object of the Bureau's work is the same as that of the prosecution, with the only difference that the Bureau doesn't file charges at the court. /ibna/
See More: Clashes within the majority in Albania on the new law of the State Police