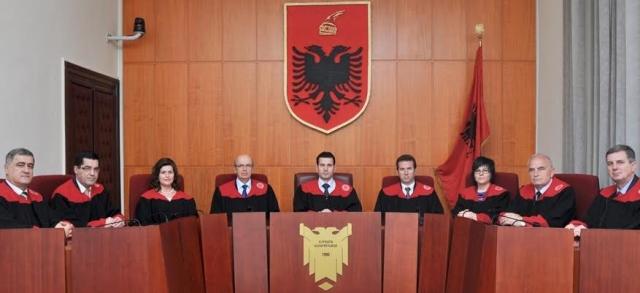 In Albania, the Constitutional Court has decided to quash today the application of the law regarding the audit of assets and the interim reevaluation of judges and prosecutors, otherwise known as the Vetting law.
This ruling followed a motion drafted by one fifth of MPs, who were all part of the Democratic Party Parliamentary Group in opposition.
The opposition considers this law in breach of the Constitution. Based on this, the Constitutional Court decided to suspend the application of the law and request an "amucus curia" from the Venice Commission.
Thus, it will be the Venice Commission the one to evaluate the legitimacy of this law which was voted in parliament with the votes of the left wing majority alone.
The Constitutional Court says that it will seek from the Venice Commission to say if this law is in compliance with the European Convention for Human Rights and Constitution of Albania.
The Constitutional Court has also decided to accept the motion of the Union of Judges of Albania to participate as a party privy to this process.
Earlier, it was the body of prosecutors which objected this law and warned that it had gathered signatures to as the abrogation of the law at the Constitutional Court.
It's been several weeks that this law has started to be applied by HIDAA (The High Inspectorate of Declaration and Audit of Assets and Conflict of Interests).
Prosecutors, judges and a number of other senior officials and people who are related to them, have been issued with a self assessment form to declare their wealth and then, this will be verified on field.
With today's decision, every action is suspended indefinitely.  /balkaneu.com/