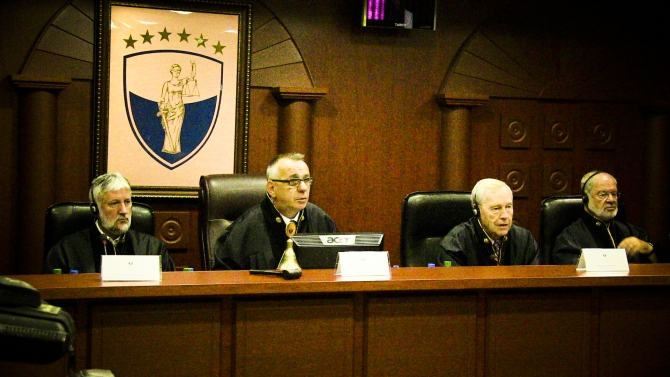 Pristina, August 26, 2014/Independent Balkan News Agency
By Elton Tota
The Constitutional Court has published the full verdict in relation to the plaint filed by Democratic Party of Kosovo (PDK) in relation to the July 17 parliamentary sitting.
The verdict, which considers the election of Isa Mustafa as speaker of parliament as anti-constitutional, states that the candidate speaker must be nominated by the party or coalition which has won the majority of votes in the elections.
In its verdict, the Constitutional Court says that the largest parliamentary group is the one which has won the elections based on the pre election coalitions and not the post election coalitions.
This verdict doesn't offer a solution to the political deadlock, but MPs are suggested to find ways in order to elect the speaker of parliament. The court indirectly suggests a political agreement to be found between parties in parliament.
"It's the prerogative and obligation of all MPs to find a way to elect the speaker and vice speakers of parliament, in line with the constitutional provisions", says the verdict.
After the publication of the full verdict by the Constitutional Court, which entitles PDK to elect the speaker of parliament, acting prime minister, Hashim Thaci has invited all other political leaders in the country to put personal interests on the side and accept a comprehensive participation.
The leader of PDK has invited his political rivals, who so far have not accepted collaboration with him, to change their mind and without wasting time, become part of the establishment of sustainable institutions.
"Let us work together to implement the result of the June 8 national elections. As a winner of these elections, PDK will be fully cooperative in working with the Kosovar political spectrum", declared Thaci.
"Today's the moment when each leader and each party must put personal interests on the side and uphold the interests of the state and society. Let us build without wasting time sustainable institutions in a comprehensive manner. Today's publication of the Constitutional Court has clarified how the process of the establishment of institutions must go on, in accordance with the laws and Constitution of Kosovo", added Thaci. /ibna/