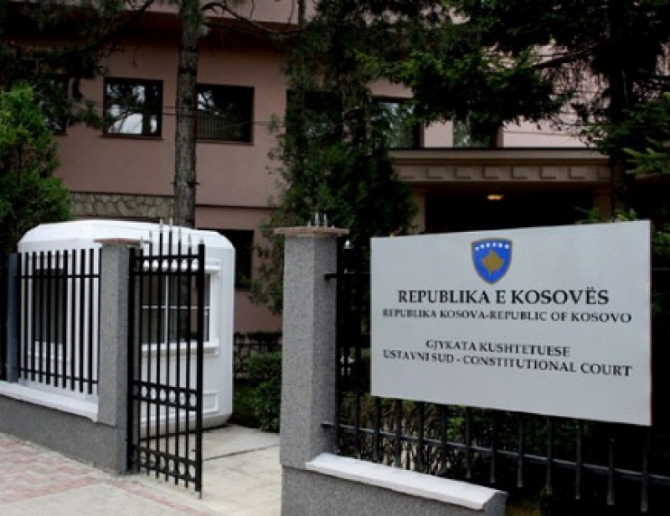 Pristina, July 1, 2014/Independent Balkan News Agency
By Elton Tota
Constitutional Court of Kosovo has published in its web page the ruling on docket no. KO103/14, in relation to the demand of the president Atifete Jahjaga to evaluate the consistency of article 84  [the powers of the President], section 14 with article 95  [the election of the government] of the Constitution of the Republic of Kosovo.
Based on this ruling of the Constitutional Court of Kosovo, president Jahjaga is expected to nominate Hashim Thaci as leader of the party/pre election coalition that won the majority of votes on June 8.
The ruling, which contains 24 pages, says that "the use of terms 'political parties or coalition', when mentioned in relation to article 84(14) and article 95, section 1 and 4, of the Constitution, implies the political party or coalition registered under the Law for the General Elections, which participates as an electoral subject, which is included in the ballot paper, crosses the electoral threshold and wins seats in parliament".
"If the proposed prime minister nominee doesn't receive the necessary votes, under article 95, section 4 of the Constitution, the President of Republic appoints another prime minister nominee, following consults with parties or coalitions (registered in compliance with the Law for the General Elections) which have met the criteria mentioned above, parties or coalitions registered as electoral subjects in compliance with the Law on General Elections, which participate as an electoral subject, which are included in the ballot paper and cross the electoral threshold."
The court has published this evaluation at the request of the president of Republic, Atifete Jahjaga, made on June 19.
This issue became subject of different constitutional interpretations, since the opposition parties block-Democratic League of Kosovo, Alliance for the Future of Kosovo, Incentive for Kosovo, with the support of Self Determination-entered a post election coalition.
The aim of the coalition is not to allow PDK to form the government. Leaders of these four political subjects in opposition, have vowed yesterday, through a joint declaration, that they will not enter a coalition with PDK.
A few minutes after the Constitutional Court made the decision public, came the reaction of the American embassy, which has demanded the verdict of the Constitutional Court to be respected.
"US embassy calls on all Kosovar leaders to respect the decision of the Constitutional Court for the clarification of the role of the President. The ability of the institutions of Kosovo to manage this process honors the democratic development of Kosovo", reads the press statement of the embassy.
Leader of the Democratic Party of Kosovo, Hashim Thaci said that he respects the decision of the Constitutional Court.
"I just read the verdict of the Constitutional Court of the Republic of Kosovo which explains that the winner of the elections is entitled to form the new institutions of the country, based on article 95, section 4 of the Constitution and the General Election Law which is clear on the way and deadlines of the creation of the coalitions. I respect this decision", said Thaci. /ibna/