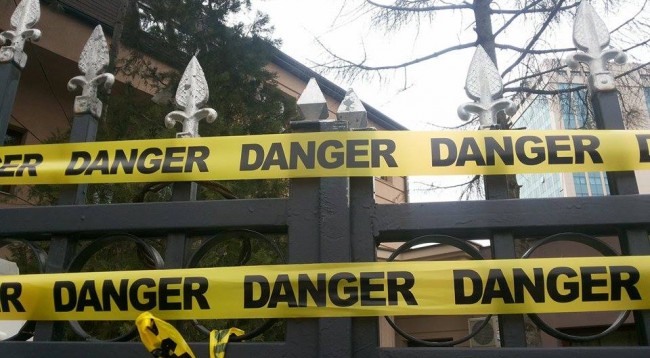 Pristina, April 14, 2015/Independent Balkan News Agency
By Elton Tota
Representatives of three opposition parties, Self Determination, Alliance for the Future of Kosovo and Incentive for Kosovo, have protested once again about the work of the Constitutional Court.
Through a symbolical action in front of the building of this court, the opposition demanded the resignation of the chief judge of this court, Enver Hasani, who, according to the opposition, is not doing his job and is following a political agenda.
Opposition representatives have isolated the entrance of the Constitutional Court with a tape which had the word "Danger" written on it and have also placed a banner "Crime scene, documents are forged here", written on it.
During this protest, participants confronted police. Nol Nushi, activist of Self Determination said that the Constitutional Court bears this name formally, because this court is at the service of the government.
He called on citizens to participate on Saturday's protest. "This court holds its name only in a formal way, because its function has changed. Even this public institution, like many others, could not escape to PDK's claws", Nushi said.
Nushi also mentioned the forgery of the signature of the American judge, as the most flagrant case of the Constitutional Court.
"This act directly incriminates the chief judge Enver Hasani, who is responsible for this process in the court. Besides ethical violations, for which Hasani has been informed, he has also violated the Criminal Code of Kosovo", added he. /ibna/