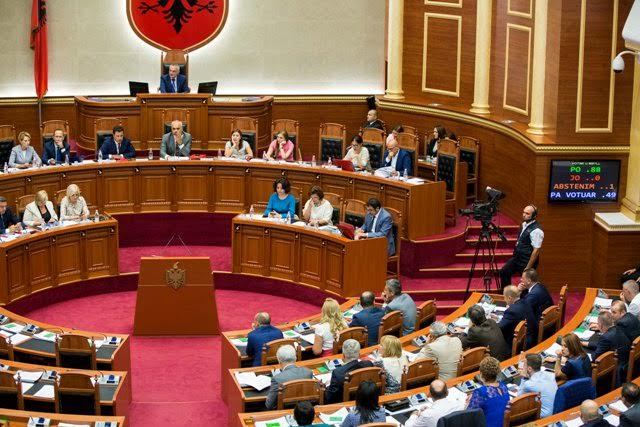 Tirana, 31 August 2016/Independent Balkan News Agency
Political consensus in Albania has been ruined after the vetting bill on judges and prosecutors was approved with the votes of the majority MPs alone, although the opposition had many arguments against.
The bill in question aims at making an interim reassessment of judges and prosecutors in Albania. Last night, the parliament session was a demonstration of the numbers that the majority controls rather than e confrontation of arguments.
The result of the voting, 88 votes in favor and 1 abstain confirmed a strong majority in support of the government led by PM Edi Rama.
The abstaining vote came from Vangjel Dule, head of PBDNJ, former government ally. The opposition left the parliament house and didn't participate in the voting.
The vice chairman of the Democratic Party Parliamentary Group, Eduard Halimi accused the Prime Minister of "wanting to cleanse the justice system by controlling judges and prosecutors with ministers and political directors and the opposition of the country, like any other opposition in a democratic country, cannot accept for this process to be politically controlled".
The voting was preceded by a debate between the two main figures of the majority and opposition in Parliament, head of the government Rama and his predecessor, Berisha.
Edi Rama considers the ratification of the bill as the most important step of the reform in justice.
He added that the government made efforts for consensus. "We made all our efforts for consensus, but there cannot be consensus when this consensus is against that with the partners in the framework of the EU integration".
Rama warned that "with this reform, no politician, however legendary or historical he is, can escape justice through threats and calls for a part of the population to hate the other part".
Former PM Sali Berisha accused the majority of intentionally ruining consensus. According to him, the government is voting a bill which satisfies its political interests. He announced boycott when he said that the opposition cannot become part of a political farce.
The opposition believes that the "bill gives way to a practice of terror against judges and prosecutors". According to it, the vetting bill violates the constitutional amendments that were consensually approved last month. According to DP, "this bill has nothing in common with the rule of law and instead, it aims at installing Gestapo like methods to put justice under submission". /balkaneu.com/