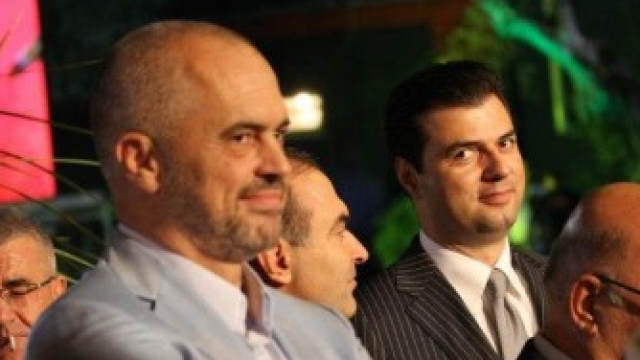 Tirana, 20 July 2016/Independent Balkan News Agency
By Edison Kurani
In Albania, majority and opposition have finally reached consensus to finalize the judicial reform by passing a legal package and the amendments of the Constitution.
However, the public declarations issued by both sides were different from each other.
Leader of the opposition, who came out first, after announcing the consensus, said that the cause of his party, according to which the international community shouldn't have a decision making role, but only a monitoring role in the process of the judicial reform, won.
"It has been agreed that the role of the international mission will be a recommending role, while decision making will be entirely in the hands of the Albanian institutions", Mr. Basha announced.
Mr. Rama's words were completely different a few minutes later, this afternoon (20.07). He said that the DP agreed with the previous draft which foresees executive access for foreign experts too.
Mr. Rama also read the letter that the EU Enlargement Commissioner, Johannes Han had sent to him, Basha and Speaker of Parliament, Ilir Meta.
In fact, Mr. Hahn's letter confirms Basha's claim that foreigners will not have access to decision making: "The role of the International Monitoring Operation must have a solid basis, a legal one, within the framework of the Constitution of Albania. The International Monitoring Operation will issue recommendations which are not legally mandatory. These recommendations will have their respective reasoning for the stance that is taken, based on the criteria set by the legislation".
Mr. Rama says that the draft of the constitutional reform doesn't change anything in terms of the two issues that blocked this process until the last minute: the Involvement of the International Monitoring Operation in the Constitution and the role of the International Monitoring Operation.
***
The achievement of consensus is seen as good news by the public opinion in the country and the international community. Consensus was hailed by political sides in the country and German chancellor Angela Merkel who had a telephone conversation with Basha.
Meanwhile, USA and EU, in contrast to other days when they were prompt in their reaction, this time they have kept quiet, at least up until now.
They are expected to come out with a stance, perhaps tomorrow after the parliamentary session, where the judicial reform is expected to be passed.
Skepticism has already engulfed many people. They expected the judicial system to be cleared from the corrupt and people who abused. But for order for this to be done by Albanians alone, the hopes are small.
So far, a perception existed that foreign experts would have decision making access and this was seen by people as a guarantee for a real process of tackling negative phenomena in the Albanian justice system.
Some say that if foreigners will only have a monitoring role, the reform in justice will not work very well. /balkaneu.com/