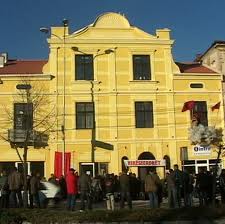 Manastir, November 22, 2013
Activities will be organized today in the town of Manastir in order to mark the 105th anniversary of the Congress of the Albanian Alphabet.
Deputy prime minister of FYR Macedonia, Musa Xhaferri will visit this afternoon the Museum of the Congress of the Alphabet in Manastir, while this Museum will also be visited by the Minister of Culture of Albania, Mirela Kumbaro.
This anniversary of the alphabet has also found Skopje in a festive atmosphere, ahead of the 101st anniversary of the Independence of Albania.
On the occasion of the day of alphabet, there have messages from the president and prime minister of the country and other personalities of the political and social life.
In the afternoon, there will be a meeting between the deputy prime minister of FYROM, Musa Xhaferri and the Minister of Culture of Albania, Mirela Kumbaro, while in the evening, there will be a Solemn Activity on the occasion of this day, organized by the Museum of the Alphabet and the Ministry of Culture of FYR Macedonia.
Activities on the Day of Albanian Alphabet have also been organized in other Albanian communes, mainly in schools and cultural institutions.
November 22 is a state holiday for Albanians in FYROM. /ibna/