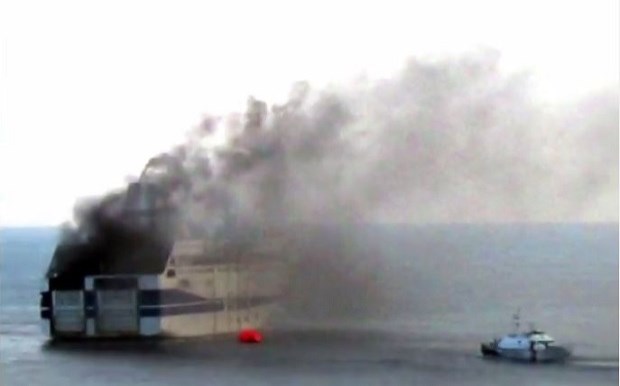 Athens, January 2, 2015/ Independent Balkan News Agency
By Lefteris Yallouros
Greek and Italian authorities continue to issue confusing figures for how many people are still not accounted for in the Norman Atlantic fire that killed at least eleven people in the Adriatic Sea.
The Italian Coast Guard said 477 people were rescued from the ferry. That figure, plus the 11 dead, would mean at least 488 people had been on board. That's more than the 474 people Greek officials said were on the register
Greek press reports suggest the passengers' list contains many duplications and misspellings. As many as 98 people are missing according to Italian prosecutor Giuseppe Volpe, while the Greek Shipping Ministry says 18 people are unaccounted for.
"Until now, there has been no news regarding 18 people, including nine Greeks," Greek coast guard spokesman Nikos Lagadianos says.
Three Greeks were killed in the Norman Atlantic ferry disaster and another nine are missing, according to the latest figures provided by Greek authorities. A ferry carrying 23 Greek survivors docked at Patra on Thursday and, earlier, a flight with another 10 Greek citizens arrived in Athens.
ANEK Lines, the ferry operator which chartered the vessel, has revised the total number of passengers and crew it says were on board the ferry three times since Sunday, finally settling on a figure of 474.
The ferry is to be towed to the Italian port of Brindisi. Authorities will be hoping to clear up how many people are actually missing as the vessel will be inspected for corpses and for clues as to what caused the fire. Giuseppe Barretta, owner of the tug boat company, told The Associated Press in the Adriatic port of Brindisi that the operation started near the coast of Albania.
"We'll only have an exact number (of victims) when the wreckage can be inspected," said Cmdr. Floriana Segreto of the Italian Coast Guard.