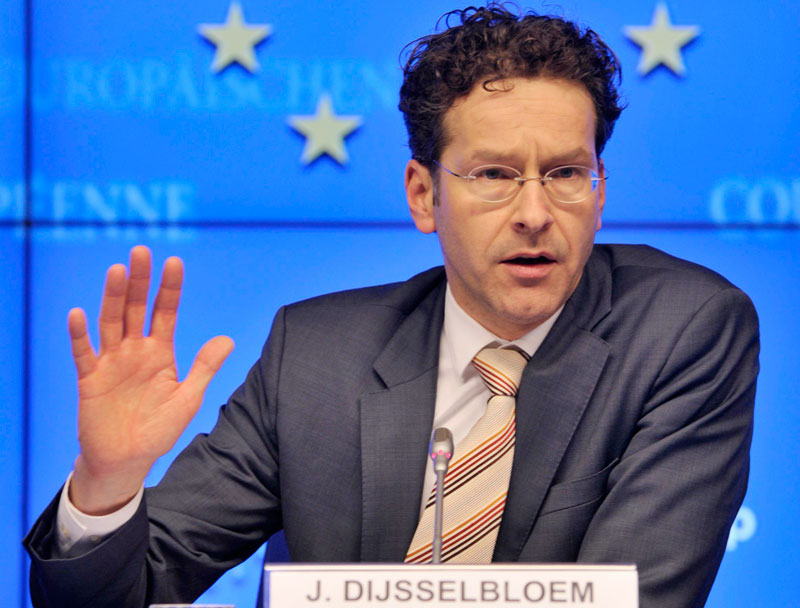 Eurogroup chief Jeroen Dijsselbloem told Dutch parliamentarians during a briefing last week that Greece will be able to apply so called countermeasures to offset austerity only if it has hit set primary surplus targets.
Specifically, he said "the measures to boost growth will be discussed at the Eurogroup. These can be used when there is structural fiscal space above the targets of the program on primary surplus targets".
The Dijsselbloem statement contradicts those made recently by Greek government officials. The Greek government spokesman has previously said that the countermeasures will be worth as much as the extra austerity measures Athens will have to implement.
Analysts point out that Dijsselbloem's view of the countermeasures is completely different to what the Greek side is presenting. It is explained that if, for example, a 3.7% primary surplus is achieved (with the target being 3.5%), the countermeasures adopted will be worth 0.2%.
Greek government sources expressed disappointment at the Dijsselbloem document.
Meanwhile, concerns are beginning to grow within the government over the management of the impact of a potential deal with Greece's creditors.
Creditors' teams left Athens last week without a breakthrough in negotiations, as all the "thorniest" issues remain open, making a staff level agreement before the March 20 Eurogroup improbable. The composition of the measures Athens will have to implement and the politics behind the ongoing round of negotiations make for a complicated affair.
Technical talks are set to continue in coming weeks, with a view of having a Staff Level Agreement in place by 7 April. However, it is considered likely that negotiations could drag on beyond May.
In addition to labor market and pension reforms, the 2018 budget is an issue that remains open, as creditors see a fiscal gap. Also, there are many differences in the 2019 budget with the counter-measures Greece is proposing to balance the fiscal measures./IBNA