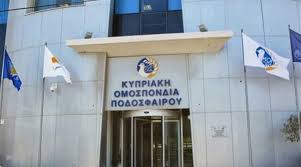 By Christos Meliopoulos – Nicosia
The agreement that was signed in the beginning of November between the Greek and the Turkish Cypriot football associations was hailed as an important step towards creating a better relationship between the two communities on the divided island.
It provided for the latter to become a member of the Cypriot Football Association (CFA) in accordance with the CFA's statutes and regulations.
However, conflicting reports from the occupied side of Nicosia have caused confusion and some concern within the CFA.
Following the signing of the agreement in Zurich on 5 November, witnessed by the heads of world and European football Sepp Blatter and Michel Platini, the Turkish Cypriot Football Federation President Hasan Sertoğlu said that he considered the content of the agreements to be provisional and subject to approval by his federation's member associations. As it was reported, he pledged to continue the efforts to improve the arrangement text.
The arrangement was indeed brought back to the Turkish Cypriot federation for consideration. Although it is thought to have been approved by all 42 Turkish Cypriot football associations, the Greek Cypriots are said not to be clear on whether the approval concerned the text of the arrangement as it was signed in Zurich or the proposal to suggest amendments to the initial text of the agreement.
The fear is that serious Turkish Cypriot objections and demands for changes to a text that has been approved with every formality may have a completely opposite to the desired effect – a deterioration in the football authorities' relationship that would jeopardise an encouraging development.
The CFA President Costakis Koutsokoumnis wants to keep the issue purely athletic. He has warned that there have been politicians in the north and the south that have tried to make a precedent out of the football arrangement, adopting either a negative or a positive stance. "We resent that," he said.
So any attempt to play political games on the back of a very attractive and groundbreaking football proposition is bound to be condemned.
But everyone immediately involved is cautious and calm. The confusion must be cleared before any final conclusion is drawn. After all, as a Turkish Cypriot Football Federation told this agency, "we are the ones that wanted such an arrangement for so long, we were the ones that pursued it."