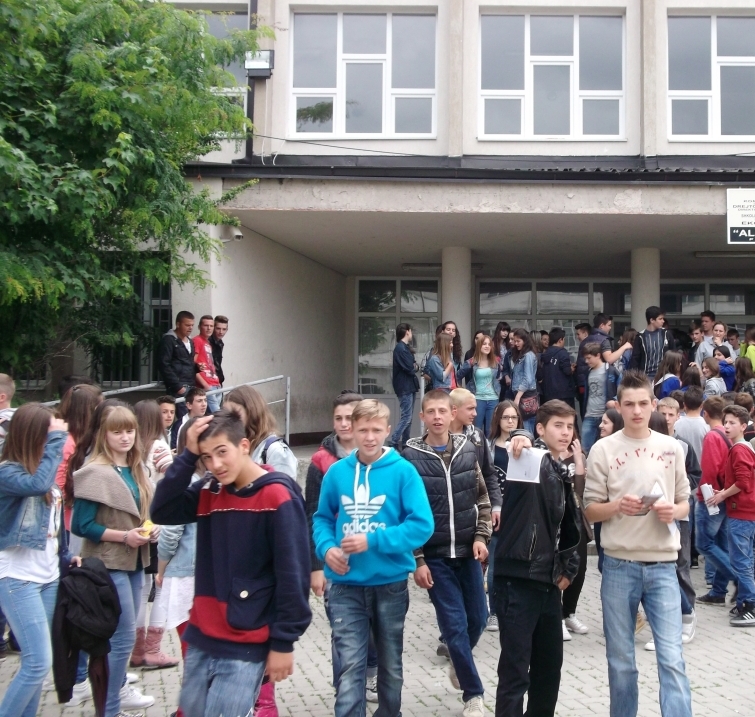 IBNA Special Report
Tirana, December 22, 2014/Independent Balkan News Agency
By Edison Kurani
Conflictions in Albanian school are a serious problem, concludes a study conducted by the "Solution of Conflicts and Reconciliation of Disputes Foundation" (SCRDF) in Albania.
This is the first time that such study takes place with the participation of around one thousand students. This study also included minors undergoing rehabilitation, who talk about the time when they were in school.
The organizers of the study say that the study has been carried out by aiming at analyzing the perception of the students and teachers about the conflicts that take place in school premises and the ways that they use to solve them.
Valmira Alimehmeti, SCRDF coordinator told IBNA that as part of further development of correctional justice, this study on conflicts in schools serves as a big effort to correct and rehabilitate conflicts in their initial stages, in order not to allow any escalation which would cause severe consequences.
Rasim Gjoka, head of SCRDF says that the program in general aims at strengthening and improving the capacities of institutions that protect children who break the law in order to help with their reintegration in society through preventing, rehabilitating, social and legal programs.
"The presence of conflicts in Albanian schools is not a new thing, because they're part of the life and reality of every environment in Albania and everywhere in the world. It's also a fact that confliction is in many ways, an unavoidable element of social interaction", says Gjoka.
"In this study that was carried out with the support of Save the Children Albania, we have concluded that conflict is not a problem, but it turns into a problem when it's badly handled and when it's not addressed at the right time", says Mr. Gjoka for IBNA. He confirms that the study is trying to penetrate causes of conflicts by using mix of collecting data.
Based on this method, the drafters of the study have chosen a population that consisted of students, teachers and school headmasters.
What are the main causes of conflicts
The causes that give rise to conflicts, which in some cases have a dramatic or a tragic end, are different. They are mainly dominated by direct problems between students and relations between teachers and students. IBNA held an observation in several schools and talked to teachers and students, in order to identify the most acute problems.
"The majority of problems relate to boys and girls from the age of 14 to the age of 18. They are at a stage of adolescence, who are more inclined to selfishness, violence and pride", says a 56 year old teacher in a public high school in Tirana. "A boy is involved in a conflict with another boy mainly as a result of a girl, whom they either both like, or one of them wants her and the other one flirts with her. These cases often escalate dramatically", says the teacher with a 28 year experience.
A while ago, in a school of Tirana, a boy was stabbed inside the classroom, after he was involved in a conflict with his fellow teenager. The cause of the brawl was a girl.
Such cases are frequent in schools. What's worrying is the fact that these kids often possess fire weapons and cold weapons. State Police says that it's making constant efforts in order to avoid such events, but it seems that the possession of weapons, especially cold weapons such as knifes, is difficult to be controlled.
Another reason for conflicts involves relations between teachers and students. They say that in particular cases, there's a tendency of teenagers to use verbal or physical violence against teachers. Their causes mainly relate to discipline required in schools, learning performance, seriousness and regular participation in classes.
Conflicts are a serious problem in schools
Data collected from students suggests that conflicts are a serious problem at school. 53% of respondents consider conflicts as a serious problem.
For the students that have been part of the program, there's a deep evaluation of confliction situations in schools. 61% of them consider conflicts as an even more serious problem. This also relates to the big sensitivity that they have about this problem and the necessary attention that these conflicts must receive.
It's easier for students to seek the help of teachers given that conflicts take place in school premises and the need for help may be immediate. But only 25% of students seek help to their teacher for the solution of conflicts and 11% of them seek help to their parents for the solution of their conflicts.
Girls seek more help from parents and teachers for the solution of conflicts, while boys are more inclined to solve conflicts themselves or with the help of their peers. Mr. Gjoka says that this phenomenon also relates to gender roles taught to boys and girls from their family, school and friends.
Teachers also admit that there are conflicts in schools. But only 30% of them use mediation forms, rehabilitating dialogue and entirely support the process of the solution of the conflict. The rest of teachers say that they merely remain in the phase of the identification of the conflict, they offer their advice when the conflict happens and a modest effort for its solution is made.
Referring to the conclusions of the study, Mr. Gjoka says that school must focus to a great extent in the education of young people and the prevention of conflicts. "Headmasters must develop their powers for the management of conflicts in effective ways and plan activities in order to raise the awareness of young people and teachers based on specific needs that the school has", says Mr. Gjoka.
80% of teachers involved in the survey say that the role of the psychiatrist and social worker is very important in advising and following up on children who are involved in conflicts.
Surveys and direct studies on the field pointed out the need for parents to be more involved in schools. Conflicts involving students and teachers or students among themselves, must see the intervention of parents to offer a suitable solution.
Another important issue is the strengthening of intermediacy groups of fellow educators in schools. Their presence may be necessary to address conflicting situations. "It's necessary to educate students in relation to intermediacy, rehabilitating dialogue, communication and this must apply to a large number of students", says Mr. Gjoka.
Publicist Genc Mlloja, who comments the study that was conducted, says that it's more productive to analyze facts rather than offer an instant solution to problems.
"One of the most famous scientists in the world, Albert Einstein said that if he only had one hour to save the world, he would spend 55 minutes by identifying the problem and 5 minutes to find the solution. The investigation of facts is more effective than the effort to solve the problem on the spot", says Mlloja, referring to Einstein in relation to this delicate and sensitive problem of the Albanian society and justice system.
Mlloja says that the citation above is reflected on the methodology followed in a special study conducted in Albania in order to observe student and teachers' perceptions over conflicts in schools.
The justice system also includes what's known as a rehabilitating justice for minors. Publicist Mlloja mentions another saying by Einstein, which he finds it appropriate: "In matters of truth and justice, there's no difference between great problems and small problems, because issues relating to people are all the same". /ibna/