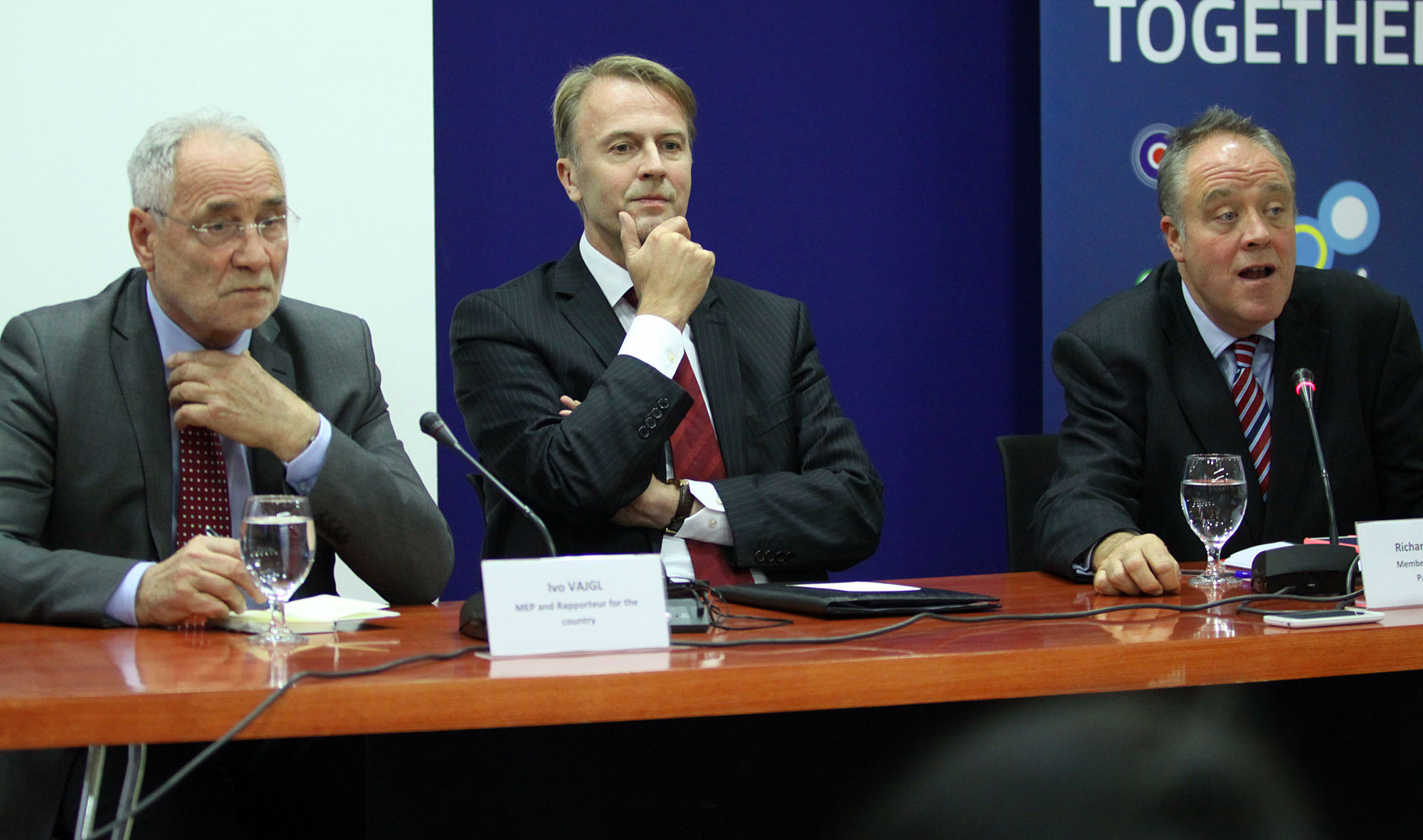 Skopje, December 4, 2014/Independent Balkan News Agency
By Naser Pajaziti
British MEP and the rapporteur of the European Parliament on FYR Macedonia, Richard Howitt said today in Skopje that he's concerned about the cohabitation between different communities in this country and that vigilance is needed in preventing any development which may bring the conflicts back.
"History of religious differences in this country is unique. Nevertheless, the challenges that religious differences bring affect all our countries. Non discrimination on religious basis and creed are fundamental values of the EU and are part of UNO's fundamental human rights. International engagement must help you to come to terms with the truth here", said Richard Howitt, EP rapporteur on FYROM.
The new rapporteur on FYROM at the European Parliament, Ivo Vajgl said that the risk of fresh conflicts in the region has not been avoided, therefore the only alternative for the Balkan is the integration in the European family.
"There are many emotions and hidden risks in the region. We, Europeans, must do everything to prevent these problems in order for these problems not to emerge in another form and in another period. We want stability here, better cross neighboring relations and the ability of countries with different ethnic and religious groups to live in a productive way", said Ivo Vajgl, rapporteur on FYROM in the European Parliament.
On the other hand, Howitt added that he doesn't want the country to remain isolated and be involved in another conflict, like the ones in Central Europe, because according to him, member states are more and more diverting their attention away from FYROM. He also underlined the fact that there's no shortcut for the accession of the country in the EU, without first solving the name dispute.
"This is an issue of political will between two capitals. I believe that there existed a time framework when a solution was possible, but this chance was wasted. I'm not sure when such window could open again", Howitt said.
Vajgl also stressed the necessity of refocusing on the solution of the name dispute. He said that he will visit Athens to help the process, but stressed that he will not become part of the debates between the two countries.
"A new dynamic is needed in the discourse about the name. Rational Greek politics must dictate an opening to a solution of the problem and not to take a defensive stance. I believe that the EU must create a new dynamic. In the meantime, this can only be done by opening several chapters for negotiations which are less contesting about neighbors", declared Vajgl.
The two MEPs suggested that the country can avoid regress, especially in the domains of the fight against corruption, independence of the judicial system, freedom of the media, political dialogue and the implementation of the Ohrid Agreement in order for the country not to be left out of the European agenda. /ibna/