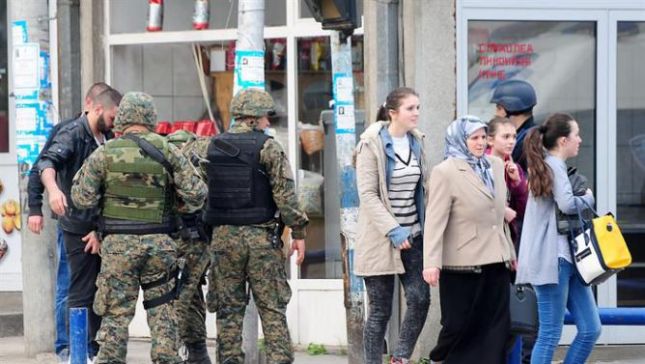 Pristina, 18 May 2015/Independent Balkan News Agency
By Elton Tota
The incident taken place in Kumanovo, in the former Yugoslav Republic of Macedonia, which saw clashes between police and an armed group, has caused tension in the relations between Pristina and Skopje.
President of FYROM, George Ivanov has sent a letter to the presidents of UN member countries, where he blames Kosovo and Albanian politicians in the country about the occurrence in Kumanovo.
Ivanov's letter which details the event taken place in Kumanovo, underlines the Macedonian claims that the people who have undertaken these acts have been close friends to several political leaders of Kosovo.
Through this letter, Ivanov accuses the neighboring country of not taking measures to prevent the armed clash in Kumanovo.
The president of Kosovo, Atifete Jahjaga has reacted against this letter and these claims, saying that sides in FYROM must contain themselves from violence in order to allow a thorough investigation.
"Following the developments in Macedonia, president Jahjaga has been in contact with other relevant institutions in Kosovo and has reacted about these developments by demanding from the sides involved to contain themselves from violence", says the president's spokesman, Arber Vllahiu.
He added that the president of Kosovo has called for a transparent and credible investigation of the events in FYROM and that she has expressed the readiness of the institutions of the country to offer assistance in shedding light upon the developments in the city of Kumanovo.
Meanwhile, leader of the Alliance for the Future of Kosovo, Ramush Haradinaj says that the government in Skopje is paranoid.
"What happened in Kumanovo is part of the campaign to make enemies. The government of Macedonia suffers from paranoia, always in search of enemies, with the only scope of spreading fear and having everything under control. Albanians around us are suffering as a result of the weak government in Kosovo", Haradinaj said.
Meanwhile, analysts say that the incident of Kosovo must not have an impact on the relations between the two countries.
Political analyst, Vilhard Shala told IBNA that the actions of several individuals must not have an impact in the relations between the two countries.
"In the armed clash in Kumanovo, no members of Kosovo police or Security Forces have taken part. These events saw the participation of several individuals, the actions of which have been condemned by state institutions in Kosovo and which have expressed their readiness to help the neighboring country to fully investigate it. The claims of the Macedonian side that Kosovo is directly involved in this conflict are wrong", Shala said.
The expert of political issues in the region, Fatos Rushiti told IBNA that the deterioration of relations has taken place, because this was desired by the heads of the Macedonian government led by PM Nikola Gruevski.
According to him, Macedonian political class is working with Russian scenarios in order to make Albanians look like factors of instability in the Balkan.
"The scope of this situation was to make Albanians look like instability factors in the Balkan. Kosovo must reflect with composure about this situation and by collaborating with the international community, to continue and contribute for peace in the Balkan", he said. /ibna/