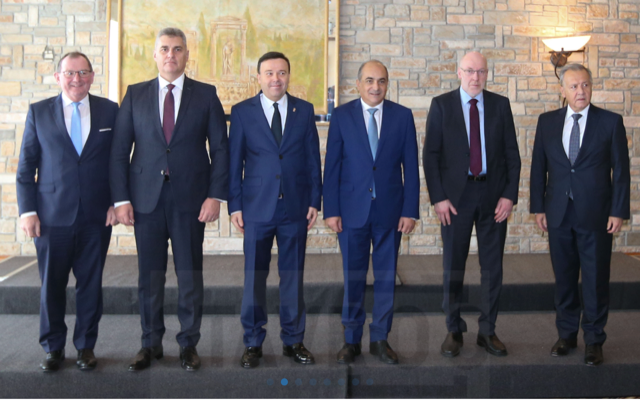 The proceedings of the 13th Conference of Presidents of the Parliaments of Small European States, hosted by the House of Representatives in Nicosia, are being held today. The Presidents of the Parliaments of Iceland, Luxembourg, Liechtenstein, Monaco and Montenegro, in addition to the Speaker of the House of Representatives, are participating in the Conference.
Announcing the commencement of the operations, the President of the House Dimitris Syllouris stressed the importance of cooperation between the small states of Europe, in order for common values to be strengthened ​​and their common interests to be promoted effectively, for the benefit of the citizens. He also emphasized that the fact that small states are more vulnerable to arbitrariness by those who do not respect the rules of international law, coupled with the small states' commitment to the relevant authorities, gives added value to such cooperation.
In the first section of the Conference the participants discussed the challenges, opportunities and best practices for the small states of Europe in the digital age. Keynote speaker was Kyriakos Kokkinos, Chief Scientist of the Republic of Cyprus for Research and Innovation.
Participating in the discussion, Syllouris highlighted, inter alia, that in the context of the 4th Industrial Revolution, the disadvantage that is the small size of the small states of Europe could turn into an advantage, provided that cooperation and synergies were developed between these countries.
In the second section the issue of co-operation between regions, its various forms and the benefits for the small states of Europe was discussed, with the participation of the Presidents of Parliaments or their representatives from Middle Eastern states.
The Speaker of the House, as the keynote speaker, referred to the role of Cyprus as a bridge between Europe and the Middle East, which is utilized towards encouraging and facilitating exchanges and cooperation between the two sides, for the benefit of the citizens. He also underlined the role that parliaments should play in the field of economic diplomacy and investment attraction, but also in creating a framework to encourage and facilitate economic exchanges and cooperation.
A working lunch was followed on "Investment and Economic Growth: Challenges for Small States", with Vice President of the Cyprus Investment Promotion Organization Kostas Galatariotis as keynote speaker. /ibna