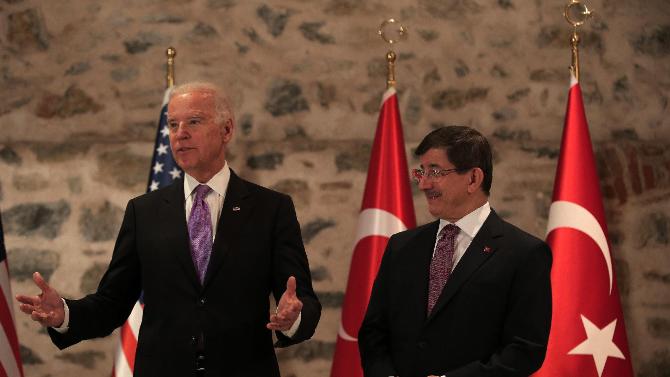 By Manolis Kostidis – Ankara
US vice president Joe Biden's seems to have achieved the US policy goals during his visit to Istanbul in the meeting with the Turkish Prime Minister Ahmet Davutoğlu.
Reportedly Ankara promised to provide its support in combating the Islamic State, while it seems that it has backed down on its demands for the immediate overthrow of Syrian President Bashar al-Assad.
Biden's statements clarified that "Turkey-USA relations are strong" and Davutoglu did not fail to emphasise that "the relations between the two countries can be described as 'rooted – strategic relationships'".
The two sides seem to have agreed on a cooperation between Turkey and the central government in Baghdad, the Kurds of northern Iraq to fight the terrorism of the Islamic State. Davutoglu reportedly promised to provide education to the forces of Pesmergka.
About 1.5 month ago, Joe Biden had argued that Turkey supports the Islamic State; a statement he later retracted and apologised to the Turkish President Recep Tayip Erdogan.
Turkey asked for Biden's help on the Cyprus issue and stressed that pressure should be applied to the President of Cyprus Nicos Anastasiades to return to the negotiating table. Davutoglu is asking from the Greek Cypriots to clarify the share received by the Turkish Cypriots from the natural gas in the eastern Mediterranean. The Republic of Cyprus states that the agreement has been reached and has made it clear that the sharing of the resources will the responsibility of the central government and claims that no special agreement is required.
Biden's statements seems to approach Turkey's positions as he stressed that "all countries that perform research in the eastern Mediterranean should cooperate, and that the US will support Turkey in the energy sector. Turkey will be the only market that will have great development".