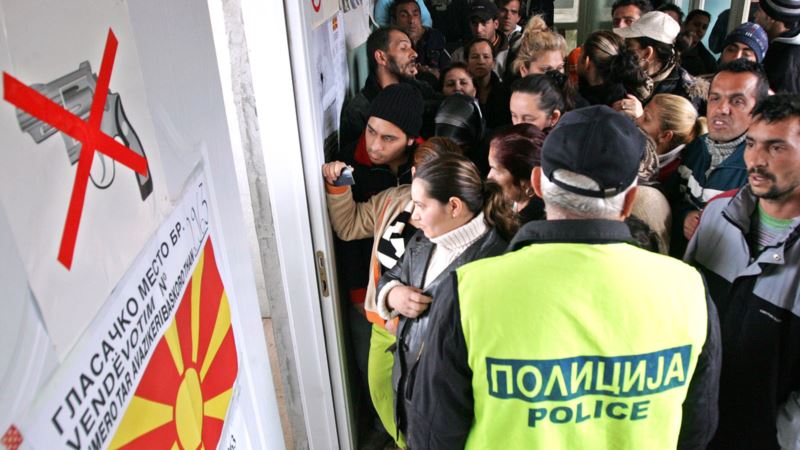 Skopje, February 7, 2014/Balkan Independent News Agency
Analysts and experts of electoral processes in FYR Macedonia predict a tense climate during the presidential electoral campaign, where incidents, which have become a common thing in all elections, are not excluded.
The 2008 elections were the most tense ones in the country, where a person was killed, several others remained wounded, while 220 party activists were brought to justice for participation in electoral incidents. In the 2011 elections and in the 2013 elections, the number of incidents was smaller and they were registered in rural areas of the country. In the 2013 local government elections, the incidents occured consisted on vandalism to party offices, propaganda material and incidents and irregularities in polling centers on the voting day.
Analysts say that incidents may be even more serious if early parliamentary elections are held along with presidential elections.
There's grounds for tension and incidents
Political analysts and experts of electoral issues say that incidents and problems are expected, if early parliamentary elections are held along with presidential elections. "Incidents are predicted, because we have a criminalized state and parties which have criminalized elections in order to win. I believe that there will be serious problems not only on the election day, but in the post election period too. We can see how the atmosphere between political parties is becoming tense and how we're far from an emancipated democratic society", told IBNA university professor and former MP, Mersel Bilali.
Professor and expert on legal issues, Tanja Karamisheva-Jovanovska says that the electoral process will depend on the heads of political parties. If they want a situation free of incidents, then this will happen, otherwise, there will be problems.
"We must wait to see the behavior of political parties and their leaders. After 20 years of holding a series of electoral processes filled with incidents and problems, we must now evolve in the electoral culture in order not to have problems. Unfortunately, this will not depend on the citizens, but on how political parties will guide voters or activists. Nevertheless, we have faith that the citizens will show maturity and will not fall victims of their parties", says professor Karakamisheva-Jovanovska.
Citizens unsure who to vote for
Citizens claim that they're not interested on having problematic elections and that it's the political parties that aim to achieve their goals through their scenarios.
Natasha M. Student in the University of Skopje, told IBNA that political parties engage and pay political activists to meet their goals. "As citizens, we cannot cause problems or tensions. The responsibility falls on political parties, which must guide the electoral campaign. As a citizen, I appeal for incidents to be avoided and for voters to choose the best offer", says Natasha.
Ali S, a political activist, who was indicted for participation in the 2008 incidents, says that political parties are to be blamed about the problematic situation and other scenarios. "I was a victim of these scenarios, where I was promised that I would be offered a job after the elections and for this, I had to cause problems in areas where the party that I represented didn't enjoy much support. I was ordered to break ballot boxes at the moment when there was a large number of voters who supported the opposing party. We did what we were ordered, but after this, we ended up in jail. In that case, the party that I represented was not interested on my fate or that of my family. This is our disgrace", told IBNA, Ali S.
Police is prepared for security and a smooth electoral process
Ministry of Interior declared that it's taking the necessary measures for the next presidential elections on April 13 in FYR Macedonia.
This ministry has set up an operative staff which will plan and implement all activities in the framework of the elections.
"An Operative Staff will operate in three phases, consisting of the pre electoral period, election day and the post election period", said the minister of interior, Gordana Jankulovska.
Minister Jankulovska called on political parties and voters to comply with the electoral process.
She warned that regional staffs will be set up and their task is to identify developments on field during the pre electoral period, to exchange information with the Republican Staff and to undertake adequate measures.
All presidential candidates will be protected by police units during the entire electoral campaign.
Ministry of Interior has stressed that police officers must not be involved in the electoral campaign off duty. According to minister Jankulovska, offices responsible of issuing personal IDs will be open for citizens even on election day.
Presidential elections will be held on April 13, while the electoral campaign will start 30 days before the election day. /ibna/