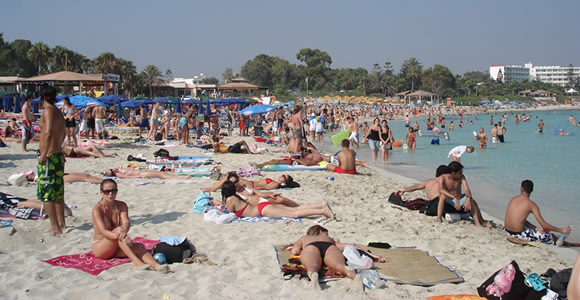 By Kyriacos Kyriacou – Nicosia
Russian tourists have been left stranded in two hotels in Protaras area in Cyprus after two Russian tour operators went bust raising concerns of a domino effect. Some 160 tourists have asked the Russian embassy in Cyprus for support and to negotiate with the hotels. Russian tour operator Labirint notified the two hotels that it had gone bankrupt and that the tourists it represented must now pay for their stay and the return flights themselves. Labirint also asked the hotels to provide the tourists with the necessary paperwork so they could be compensated by the insurance company.
President of Association of Cyprus Tourist Agents (ACTA) Victoras Mantovanis stated that two Russian companies, which offer tourist packages to Greece and Cyprus, have gone bust within two weeks.
On Saturday, he said, the Russian company Labirint went bankrupt, adding that the tour operator brings to Greece about 150 to 200 thousand Russian tourists and to Cyprus about 10 to 15 thousand. Two weeks ago, he noted, the Russian company Neva went bankrupt which brought to Cyprus about three thousand tourists.
Russian market "bubble"
Replying to a question as to the causes, Mantovanis expressed the point of view that the reasons lie with an abrupt expansion of the Russian tourist market in general. That is to say, he explained, tour operators have expanded to a great extent in the last three to four years resulting in a "bubble".
At the same time, Mantovanis pointed out that serious problems have come up due to an excessive supply of tourist packages which in turn forces tour operators to constantly drop their prices and have special offers. As a result many cannot cope, he added. He described the situation as `very serious`, noting that others might follow in the footsteps of the two first companies.
Cyprus is not greatly affected, he said, since the two companies would bring to the island about 20,000 Russian tourists out of a total of 600,000.