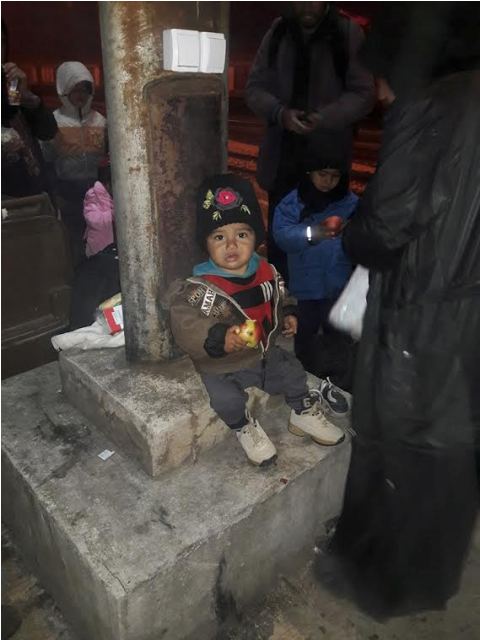 Athens, December 4, 2015/Independent Balkan News Agency
By Spiros Sideris
Greek investigative authorities are puzzled by the video documentary that shows the activities in Lesvos, during the first days of November, of the London-based charity ONE NATION. Emblem of the organization is the emblem of Muslim believers, the towering finger.
In the specific video, along with other such videos that the organisation has posted on the free to access from everyone personal account on Facebook, appear members of the organisation at sea with inflatable boat on the sea strait between Skala Sykamnias and the turkish coast, to greet a boat with refugees and immigrants and guide them in English as to how and to which part of the coast they should head to. Then they address three times in Arabic the Islamic greeting "Allah Akbar" (God is one) to receive an equal number of times the same response.
In the video appear on a boat, apart from members of the organisation ONE NATION, members of the charity organization TEAMHUMANITARIAN, which they named, rewarding it publicly for the good cooperation.
While all these are taking place, at a low height above the lifeboat with NGO members is flying a helicopter of Frontex's force on the island.
In other videos of the organisation on the same page on Facebook are presented more interesting information from the operation of the organisation in Lesvos, in the ten days it was operating without anyone's approval. For example, there are troubling scenes in which they distribute water to refugees and immigrants who are preparing to leave the port – in which they refuse to give the water if the other person does not receive it with the right hand, as proof of being a good Muslims. On the web page of ONE Nation they have also posted photos of their members, always with their yellow-green jumper, and even photos from open interfaith prayer for the victims of the shipwrecks made by the Municipality in Mytilene, Lesvos.
It should be noted that lately there has been a very strong reaction from the Greek authorities, but also the local authorities on Lesvos, for the uncontrolled activities of the NGOs on the island.