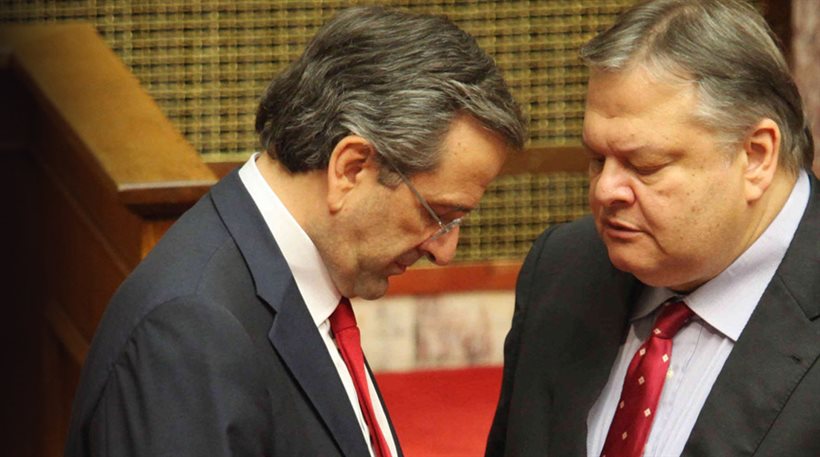 By Spiros Sideris – Athens
Big political problem seems to create the new complications in the negotiations with the troika, while the "no" of the creditors' representatives is expected to trigger rapid developments.
Within this climate, Prime Minister Antonis Samaras will meet with Vice President, Evangelos Venizelos, at 10:00 am on Thursday for a first assessment of the new "Waterloo" and for drawing the government's strategy from now on .
The main disagreement remains the fiscal gap, as the Troika continues to evaluate it to EUR 2.5 billion, asking in an authoritative way new measures. On its part, the Greek economic team degrades the financial gap for 2015 at about EUR 350 million and estimates that this can be found without new interventions.
The representatives of lenders, however, rejected the proposals of the Greek side and the negotiations were interrupted once again.
The Greek delegation, however, is attempting to downplay the dispute and prepares alternative proposals, at technical level, for the extension of the greek program that should employ the Eurogroup on 8/12.
After the new "block" from Troika the government has to decide how it will do in the coming period, given the fact that the time for the election of the new President of the Republic is fast approaching.
Reportedly, Samaras and Venizelos, in today's meeting will try to design the strategy that "connects" the agreement with the troika with the election of the President of the Republic and to avoid a potential political "accident".
Besides, sources from the Maximos Mansion say that "the strong players in the international chessboard  do not want to create political problems in Greece", which means that the government will play this card.
From Maximos they say that the government is not backing down, despite Troika's insistence, however, the order of the Prime Minister is that there will be no debate on taxes or cuts in salaries and pensions.
Moreover, Trikoupi and Maximos seem to estimate that:
It is more likely than ever the informal extension of the existing Memorandum, using as an excuse the twenty-day holiday period of the European parliaments due to the holidays. This may give more time to the government to negotiate.
There is the need to accelerate of the Presidential election in January, in order to exert pressure on lenders with the dilemma "agreement or political problem in Greece". In the government, however, they believe that this process could be avoided if SYRIZA consented to a person for President of the Republic, which currently is not palpable.
However, despite the fact that the approach in difficult issues is described as "positive", Maxim has yet to face intergovernmental disagreements, mainly in the labour issue and pensions.
ND is pushing for a change in the trade union law, particularly in how decisions for a strike will be taken, but also "parametric changes" in labour law, however, PASOK strongly denies any talk on the unions and rejects changes that believes will bring dramatic reduction in pensions.