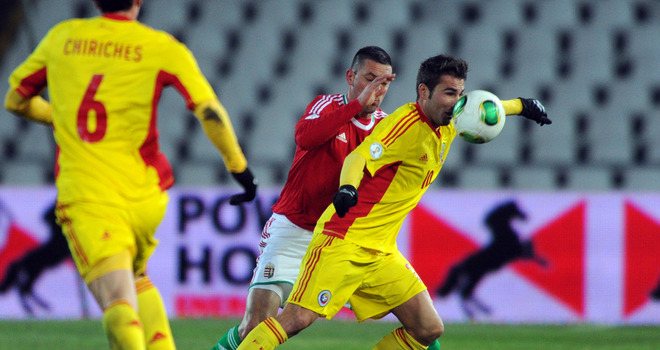 By Daniel Stroe – Bucharest
The leadership of UDMR Covasna, the county branch of the main Magyar minority political party in Romania, sent a letter to the International Football Federation (FIFA) requesting the sanctioning of what it calls the "anti-Magyar attitude" of Romanian fans attending the match Romania – Hungary (3-0), played on Friday in Bucharest.
Signatories of the letter maintain, among other things, that fans chanted "Out with the Hungarians in the country" and have displayed several placards inscribed "1918", the year of the union of Transylvania, until then under Hungarian occupation, with Romania.
"Unfortunately this is not isolated, but has lately become a habit as during football matches they chant the Hungarians to leave the country. It is unacceptable for us while watching the game on television to see that some want to chase us out of the country. We can not tolerate football matches or any other sporting event turn into a space of discord, intolerance and hatred", says the letter signed by Tamas Sandor, the head of UDMR Covasna, Antal Arpad, mayor of Sfântu Gheorghe, the county seat, and the UDMR lawmaker Marko Attila.
They asked FIFA to take a tough stance, saying that these attitudes negatively mark the Hungarian community, sparking fear, insecurity and mistrust among its members. Marko Attila also notified FIFA this spring about the "excesses" of nationalist Romanian fans during the matches Netherlands vs. Romania, in the same 2014 World Cup qualifying round, and CFR Cluj vs. Rapid Bucharest, in the national league.
But the Hungarian fans displayed an aggressive behavior while in Bucharest and police had to intervene two times before the match started to bring them under control. They also chanted "gypsies" and "Transylvania" during the match, ripping chairs in the stadium as the match drew to an end.
The first round of the confrontation was held on a closed stadium in Budapest due to a decision by UEFA which punished the Hungarian Football Federation for anti-Semitic chants by Hungary fans in a friendly at home to Israel on August 15. The match on March 22 ended in street violent protests in Budapest after Romania scored and equalized in the last minutes in a match that has always raised enormous passion in the two neighboring countries which have been lately involved in a series of verbal exchanges over the Magyars' quest for territorial autonomy.