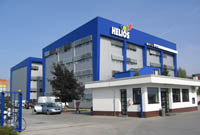 US multinational PPG and Austrian group Ring International have submitted their binding offers for an almost 73% stake in Slovenian coatings maker Helios which a consortium of owners put up for sale in September.
The news was broken to Helios shareholders at today's annual general meeting by Helios CEO Uroš Slavinec, the Association of Small Shareholders said in a written statement Thursday.
Slavinec said that after three companies had carried out due diligence in the Domžale-based chemicals company last month, PPG and Ring International submitted their bids.