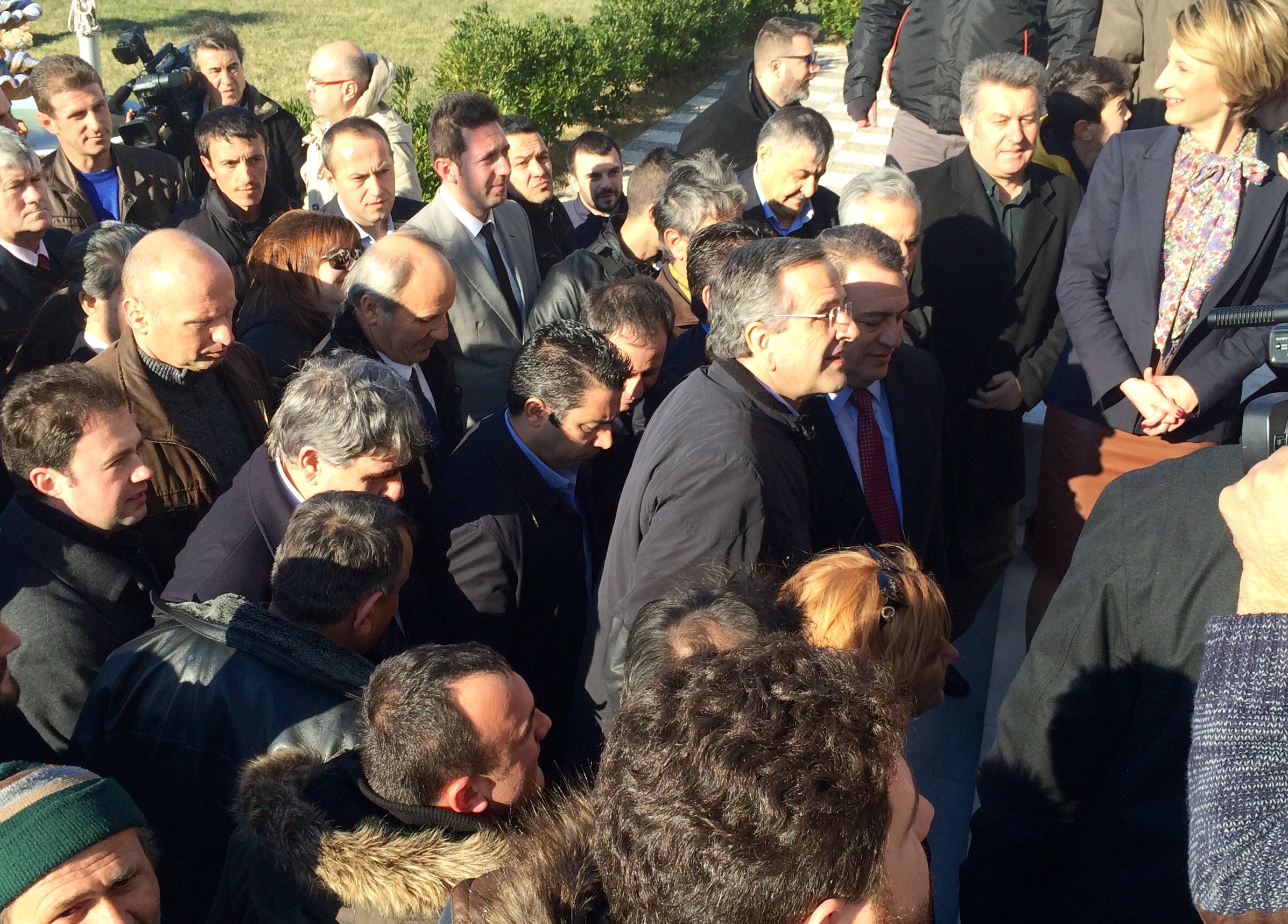 Athens, January 6, 2015/ Independent Balkan News Agency
By Spiros Sideris
For the need for a common path moving forward, above any political party, provided we all want to be in Europe, spoke Antonis Samaras during his electoral tour in Thrace and Eastern Macedonia on Monday.
In Evros, the Greek Prime Minister visited the military outpost in the border with Turkey, in Kastanies, where he was welcomed by Major-General Anthonis Vitetzakis and Brigadier Ioannis Makris.
The prime minister personally greeted one by one the Greek soldiers serving in the outpost and then went to the border, where he met with the Turkish prefect of the region of Edirne and the head of the military force of the Turkish outpost.
They exchanged gifts and remembered than 15 days ago, the same point had been visited by Prime Minister of Turkey Ahmet Davutoglu, who during that time had spoken by telephone with Samaras to wish him "Happy Birthday" and to inform him that he is right at the border between the two countries.
"This line is not only a border, but also a friendship line between the two countries", said the Turkish governor, while the head of the Turkish military outpost thanked, on behalf of the Armed Forces of Turkey, the Greek Prime Minister for his kind gesture.
"This is bidirectional. And we thank you", replied Samaras to the Turkish officer.
"We are very honored by your visit today, particularly, since 15 days ago the prime minister of our country was here in this border", said the Turkish perfect, with the Greek prime minister observing: "and he had called from here to wish me for the new year. And we wish you the same and good strength for the new year".
"The presence of both of our Prime Minister and yours here have given strength to the workers in this area", said the Turkish prefect, with Samaras noting: "this is what we wanted to achieve".
Then the Prime Minister visited Sapes and Fillyra, settlements inhabited by the Muslim minority, where he spoke to the residents, who expressed their concerns and their problems.
Afterwards, he went to Komotini, where he spoke to an open lecture at the Athens Concert Hall. In the morning he had attended the Blessing of the Waters in Kavala.