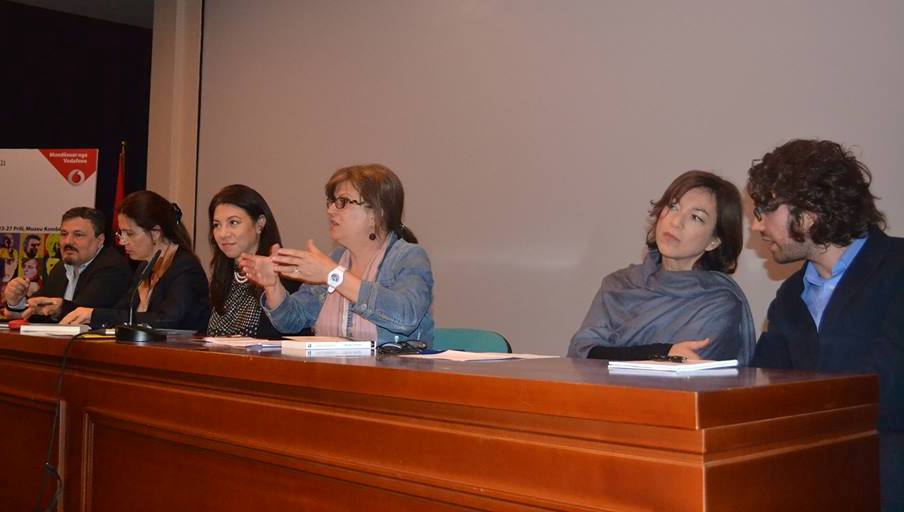 Tirana, April 25, 2014/Independent Balkan News Agency
How can there be a committed culture when the Albanian society lacks the culture of commitment? This question (1 million dollar question) causes difficulties for personalities of art and culture in Tirana.
Gathered in the Book and Art Festival in Tirana which is being held these days in the National Historical Museum in Tirana, many artists, translators, publicists and representatives of the domain of art, are  discussing on the cultural commitment, focusing especially on the commitment of women in literature.
Eda Derhemi is a prominent researcher and columnist. For several years, she has been working as a professor in a renowned US university.
"My commitment is neither left winged nor right winged", says Derhemi. "There are no discussions on committed literature and this type of literature is not known. The distinctive feature of this literature relates to the fact that its object is an oppressed social group. This is a colossal group which consists of almost half of the population. This is a group which has been oppressed", adds she.
Derhemi says that a committed literature must be above all a literature. "In order to be a literature, it must satisfy. This has been the cause that this kind of literature didn't satisfy, but fell into an ideological decadence. It's a literature which aims to change things. But can we have a committed in a society such as this one which doesn't enjoy the culture of commitment?"
Publicist Ardian Vehbiu says that the tradition of the Albanian literature has been tied with socialist realism before. "Literature should have been committed and this was perceived by the public as something which came from above. This seems to have given its effects, because today, there's some kind of indifference of the authors toward commitment", says Vehbiu.
He adds: "There's a tendency to see commitment as politics or political side. Women literature is important, because the woman brings a novelty".
Italian writer, Daria Bignardi is in Tirana. She says that there's no category of literature committed to women. "For this kind of literature, there's little talk even in countries such as Italy. I don't know if it's a good or a bad thing, but categories do not have a gender. Nevertheless it's good to talk about it and encourage it", suggests the well known writer.
Ministry of Culture, Mirela Kumbaro, comes from the circle of translators. "The concept of committed literature must not only belong to women", suggests Kumbaro. "I'm a writer, but if I've decided to commit, I've done this through translation. By considering translation to be creation, this has been a commitment for me, because I believe that I have conversed with the public through authors, the selection of whom is also an act of commitment, because the authors that I've translated have not been chosen randomly by me, but I have chosen authors who have impressed me and then, I have communicated through their works. Such are authors like Kundera, Duras or Marjane Satrapi with her book "Persepolis", says she.