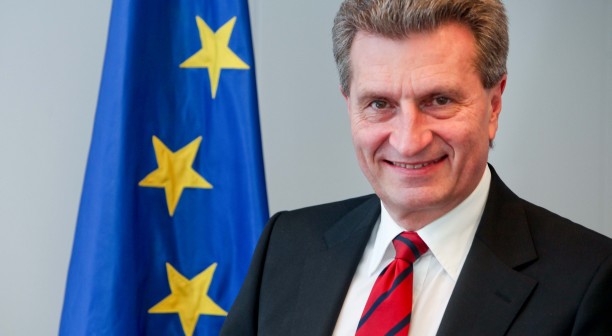 We are living a digital revolution. There's a shift now towards digital technologies that have started to spread to all the sectors of society and the economy. Your country is highly digitalised. The banks are digitalized, mass media is digitalised. Everything changes. The whole industry experiences this transformation. Our American partners have a clear strategy, they have the data, they have creativity, they have companies like Facebook, Google, Qualcomm, Cisco, which with the incredible creativity concentrated in California conquer the entire world. Unless it attempts to develop, Europe will be crushed. We need a common strategy, a backbone of the European Union. Romania will actively participate in our plan to have an active European Union, said Oettinger.
The European official underscored that unitary digital strategies must be enforced Europe-wide and that a single program bringing together all research institutes is necessary for this.
Oettinger referred to the EU goods market that sees goods moving freely. Citing Romania's particular example, he said that the cars and goods built here are licensed in Romania, can be built in all EU countries and also be exported thereto, and with countries like Switzerland, Western Balkan countries and Serbia also part of trade associations, Europe is still the world's largest market but what it lacks is a common digital single market. The Commissioner advised digital strategies to be bundled together in a unique direction in Europe. In the case of research, whether it's about robotics, quantum technology or nano-electronics, all these are too broad for just one member state and also too expensive for one company, but through a common research agenda, all European research institutes can be brought to a point of convergence, Oettinger said, inviting Romania's relevant and acknowledged universities and research institutes to get involved in projects of common interest.
He added that the European Union is ready for technological development and that one of the plans in the coming years is the launch of 5G technology.
There are many areas that are not covered by 3G and 4G signal. We need a joint development plan, Oettinger said, mentioning that South Korea will introduce 5G services in 2018 and that the EU plans to do the same and must see how to award new mobile spectrum in the 700 MHz band. Only then can telemedicine function, the same goes for connecting cars and connecting tracks technologies, the official continued, adding that emerging electric vehicles require engineers and computer scientists. In this respect he praised Romania's strong pool of experts, advocating also dual education, for the young people who would choose to go to Dacia plant, or to Renault to pursue an education close to their field of activity.
The European Commissioner for Digital economy and Society Gunther Oettinger participates on Thursday in the Digital Romania — Industry 4.0 International Forum organized at the Victoria Palace of Government./IBNA
Source: Agerpres